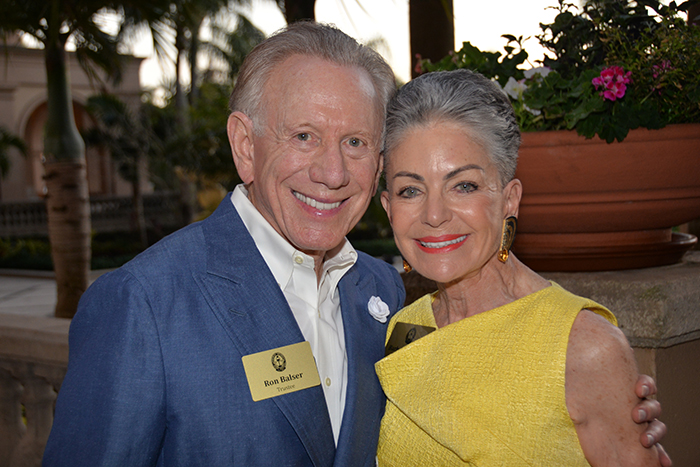 Oct. 04

2016
Ronald Davis Balser graduated from The Wharton School at the University of Pennsylvania with a degree in economics. In 1961 Ron entered the insurance industry and looked to the emerging area of executive benefits. Ron was a founder of Balser Companies, a nationally recognized advisor to Fortune 1000 companies. The company was sold in 2007.
Since selling the business, Ron has been active in the Art World. He is the founder of Balser Art Ventures, LLC, a design, production and distribution company which promotes his personally produced works of art. His photography, electronic prose, engraved granite benches and sculptures are in private and public collections throughout the country.
Ron and Barbara founded the Wharton Executive Education Advisory Board where Ron Chaired the Board for 20 years, and has served on Boards of Wharton Undergraduate School, Santa Fe Opera, Atlanta's High Museum of Art, M Life and Balser Companies. He currently serves as a National Commissioner of the Anti-Defamation League (ADL), and is member of the ADL National Executive Committee, is a trustee of ADL Foundation, a member of the American Friends of the Israel Museum, serves on the Advisory Board of The Peggy Guggenheim Collection, The U.S. Board of Historical Royal Palaces, The Board of the Artis-Naples Baker Museum of Art, and is a trustee of the Naples Children and Education Foundation. NCEF sponsors the Naples Winter Wine Festival, the world's largest charitable wine auction, benefiting children at risk. He is recipient of the 1999 Alumni Award for Distinguished Service from University of Pennsylvania's Wharton School. In 2006 Ron endowed the Barbara B. Balser Lifetime Achievement Award for ADL lifetime leadership.
He and his wife Barbara, former National Chair of ADL, are Founding members of the Georgia Aquarium, National Museum for Women in the Arts, The Booth Western Museum, and Founding Lifetime Members of the United States Holocaust Museum Circle of Freedom Donors. They received the Atlanta Jewish Federation's King Solomon Society Award, True Blue Award from Spelman College, and are the first Wharton Atlanta Chapter recipients of The Joseph Wharton Award.
The Balsers were each awarded the Anti-Defamation League's highly coveted Abe Goldstein Human Relations Award, Barbara in 1994 and Ron in 2006. Barbara served as National Chair of the ADL, and Ron served for 5 years as SE Regional chair. Ron is a former member of American Mensa.
Ron and Barbara endowed the Abraham H. Foxman Exceptional Leadership Award for persons for world leaders who have exhibited exceptional leadership in promoting the ideals of ADL. Each award recipient will receive an original sculpture of "The Spirit of Leadership" by Jesus Moroles, specially designed in conjunction with Ron for these awards.
The Balsers are avid art collectors. Their offices and homes in Atlanta (Impressionist, Modern, Contemporary Art, Photography, Contemporary Art glass and Art Deco/Nouveau fixtures/furniture/glass), Naples (Modern, Glass and photography) and Santa Fe (Western, Contemporary, Glass and photography) each contain unique collections.
Ron has combined his love of the arts with his personal, civic and philanthropic endeavors. In addition to their museum and civic art gifts, Ron and Barbara endowed The Wharton School Balser Art Collection, which includes work by Albers, Dali, Miro, and Warhol. In 2006 they purchased 180 art works constituting The Balser Art Collection at Emory University's Goizueta Business School, with pieces by Braque, Chagall, Hockney, and Lichtenstein.
In addition to the foregoing, their philanthropy has covered a diverse group of charities, civic and educational endeavors, including Naples Jewish Community Fund, Naples Winter Wine Festival, Naples Philharmonic and Museum, Aid and Comfort of Santa Fe, Santa Fe Community Foundation, Santa Fe Opera, Santa Fe Chamber Music, Camp Sunshine, North Avenue Presbyterian Church, Georgia Student Leadership, and Jewish Federations of Southwest Florida and Atlanta. Barbara B. Balser has been described as an influential change-maker, an intuitive leader and a reliable team player. In community, business and family life she has worked to make a difference in the lives of people, branding each encounter with her own personal style and offering others her personal best.
In a book published by Ellie Wymard entitled, Conversations With Uncommon Women, Barbara attributed the consensus-building leadership style that she exercised in her employee benefits firm to the traditional feminine roles she played in her early years. "I don't know if I would have had the same strengths, if I had gone right into business after college. I think I bring a certain sensitivity to my relationships."
Barbara served as Co-chair & CEO of Balser Companies, a nationally-known think tank that designs special benefits programs for companies like Home Depot and UPS, Barbara first entered the finance and insurance arena decades ago as an "exception to the rule," a woman who was also the family bread-winner. A newly single mother with three young children in the mid-1970s, Barbara built her business helping ordinary working people identify their retirement dreams, family protection concerns and other personal financial goals. Barbara gained understanding of the importance of finding custom solutions for her clients' lifestyle goals. She acquired critical insights into benefit planning in a time before "human resources" was even coined. As corporations became the chief providers of benefit programs, and women broke through corporate glass ceilings, Barbara was soon consulting in a business she thoroughly enjoyed and became acquainted with other women in powerful corporate positions. A founding member of The Committee of 200, an organization of the top businesswomen in America and internationally, Barbara quickly became part of this sisterhood of achievers. She still cannot find enough hours in the day to accomplish all she would like, and this drive isn't limited to business.
Her commitment to education, social issues and the arts has resulted in five decades of personal involvement through numerous organizations and projects. A Magna Cum Laude alumna of Boston University, this Richmond, Virginia native played a major role through the Anti-Defamation League and B'nai B'rith Women as president of Support Atlanta Schools, part of an Atlanta coalition of 50,000 women, who together worked to keep public schools open and to foster a smooth transition to the newly desegregated classrooms and faculties.
As a volunteer, Barbara has aligned her time with organizations that reach beyond the norm. It may seem like a tall order to secure justice and fair treatment to all citizens, yet that has been the purpose of the Anti-Defamation League since 1913. Barbara served this international organization as National Chair from November 2003 to November 2006, becoming the first southerner and first woman to hold the post. At the conclusion of her term, Barbara was presented with the newly created Barbara B. Balser Lifetime Achievement Awarded, to be presented thereafter to a person within the ADL Family who has devoted decades of service and leadership advancing the mission of the Anti-Defamation League. She continues to serve the League today as a Trustee of the ADL Foundation and a member of the National Advisory Committee.
Blending her business zeal and passion for learning, Barbara served on the Goizueta Business School Advisory Board at Emory University in Atlanta and the Executive Education Advisory Board at The Wharton School of Business at the University of Pennsylvania.
In addition, their philanthropy has covered a diverse group of charities, civic and educational endeavors, including the Naples Winter Wine Festival, Aid Atlanta, Aid and Comfort of Santa Fe, the Board of the National Center for Civil and Human Rights, the Friends of the Israel Museum, the President's Council of the School for Advanced Research, the Santa Fe Opera, the Santa Fe Chamber Music Festival, Camp Sunshine, and the Jewish Federation of Southwest Florida … just to name a few.
Barbara and Ron have six children and nine grandchildren. Their children and mates are Barton Friedland, Lisa and Dan Balser, Deborah and Jon David Friedland, Jennifer and Jonathan Balser, Ginger Balser Reid, and Laura G. Balser and Matthew D. Smith.
Ron and his wife Barbara are Florida residents, and have homes in Naples, Atlanta and Santa Fe.