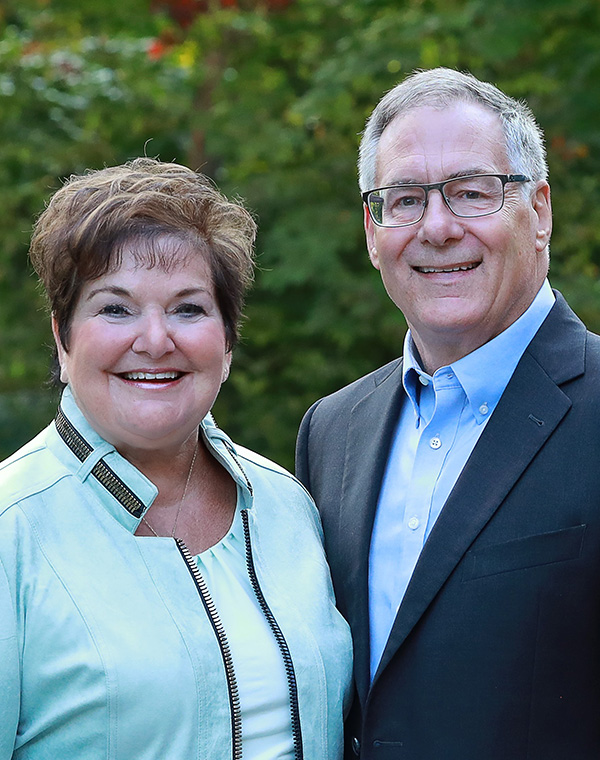 Sep. 05

2023
Kathy and Andy Moock are retired business executives who share a common interest in serving underprivileged children.
Andy has always enjoyed learning. After graduating with a systems analysis degree in 1980, he joined Ernst and Whinney as a systems consultant. He then sat for and passed the CPA exam without a degree in accounting. After six years with E&Y, he took an opportunity to purchase a minority interest in a small plastics manufacturer, which later changed its name to InVue. He proceeded to learn everything about the business, and as Executive Vice President, he managed manufacturing, engineering, systems, finance, legal, HR and sourcing. He is listed on over 20 patents. He helped InVue grow 50-fold and negotiated numerous acquisitions and divestitures. He has traveled extensively, visiting China over 25 times. He retired in late 2021.
Andy has a passion for service and children in need and has volunteered as a board member and direct youth mentor for many charities, including: Pathway Caring for Children, a private foster care agency based in Canton, Ohio; OASIS Outreach Opportunity, a charity providing outreach to inner-city kids in Akron, Ohio; Boy's Hope Girl's Hope, a Cleveland-based, privately funded charity providing housing, mentoring, tutoring and education funding to high potential kids-in-need; First Glance, an Akron charity providing mentoring to kids-in-need; Clearview Legacy Foundation, a historic, minority-owned golf course in East Canton, Ohio that is currently building a museum / clubhouse / event facility.
He enjoys biking, boating and traveling.
Kathy is a retired regional sales manager from Procter & Gamble, where she received the "National Salesperson of the Year" award. She is a community volunteer with many years of work in the nonprofit community.
She is currently serving as the board chair of the Girl Scouts of Northeast Ohio (GSNEO) after several years serving as the board secretary and the board development committee chair. She is a recipient of GSNEO's "Women of Distinction" award. Kathy has served for over eight years on the board of Women in Touch with Akron's Needs (WITAN), including two years as president and five years as treasurer. WITAN's mission is to raise funds and to work as volunteers for small nonprofit agencies that serve the underprivileged in the Akron community. She is currently serving on their Grants and Fund Development committees. Kathy was a board member of the Junior League of Cleveland for nine years, most recently in the role of sustainer treasurer. She served for 16 years in various offices of the Brecksville-Broadview Heights Parent School Organization (PSO), including six years as PSO president.
Kathy currently volunteers at Stewart's Caring Place Cancer Resource Center, Blessings in a Backpack, St. Bernard's Hunger Center and Haven of Rest. She has been a leader of nonprofit fundraising events, including the Leukemia Lymphoma Society and University Hospitals. She enjoys shopping, tennis, pickleball and her dog, Cooper.
Kathy and Andy both graduated from Miami University in Oxford, Ohio and are a happy "Miami Merger."
They have two daughters and have attended the Naples Winter Wine Festival since 2022.