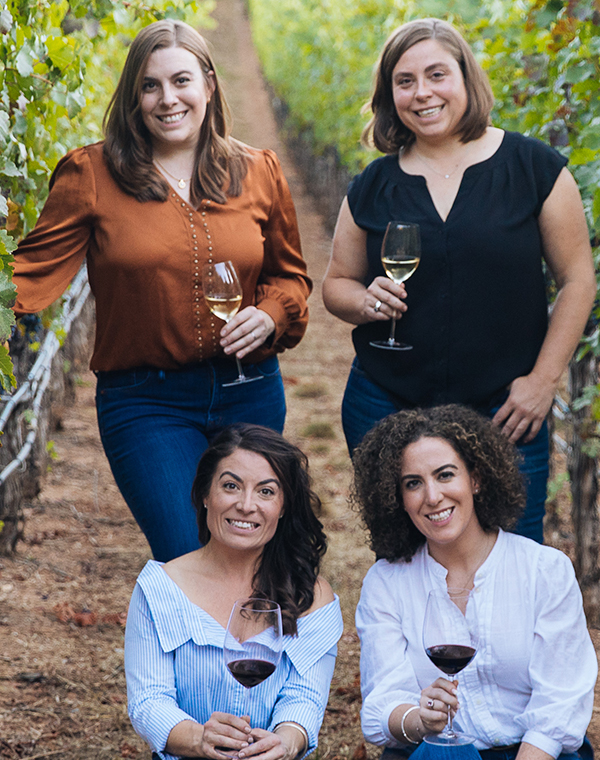 Aug. 21

2023
Starting at the spry age of 10, each sister – Angelina, Alycia, Riana, and Giovanna Mondavi – spent their summers learning the family business. A typical summer day for the girls entailed odd jobs throughout the winery, including schlepping hoses, cleaning tanks, soaking bottles, pulling samples, and running lab analyses. A family
tradition of summer winery jobs led each sister to love the wine industry. Paying respect to the generations before them, the four sisters launched Mondavi Sisters' Collection, which includes their Napa Valley cult brands, Aloft and Dark Matter wines.
In conceiving Dark Matter Wines, the sisters were inspired by the knowledge and dedication from their grandparents and parents. The eldest of the four, Angelina, worked closely with a top Napa Valley winemaker and garnered more than twelve 100-point scores from Robert Parker, before creating the first vintage of Dark Matter in 2005. While cutting their teeth on the Zinfandel, the sisters added a Cabernet Sauvignon to complete the portfolio. Sourcing fruit from their Howell Mountain properties, they pick just enough for 6-8 barrels each year.
Although first launched under their family's corporation, their father, Marc, guided them to the acquisition of Aloft in January 2017. Aloft, a vision introduced in 2008 by Marc, was as a nod to his father's winemaking philosophy that all wines should portray the soul of the vineyard. Keeping this philosophy as a family focus, the sisters strive each year to create a single-vineyard, single-varietal Cabernet Sauvignon that is an expression of Howell Mountain. The fruit, grown atop Howell Mountain from the family's Cold Springs Vineyard, is known for its altitude and location above the valley floor. It's a gem of a location with a collage of soil profiles, slopes and elevation variances that has become known as the family's most prized property.
After two years with Aloft under their belts, the sisters made the strategic decision to return to their roots and recently added a Chenin Blanc to their Aloft portfolio. As the first white wine in the collection, the Chenin Blanc is a throwback to original expressions developed by their Grandfather, Peter Mondavi Sr., over 60 years ago. Today, Chenin Blanc is considered a rare varietal in the Napa Valley with less than seven acres planted.
Truly a family brand, the Mondavi Sisters strive to create a wine of superior quality that continues to honor their legacy, their land, and each vintage with the same passion and devotion their forefathers passed down for generations.