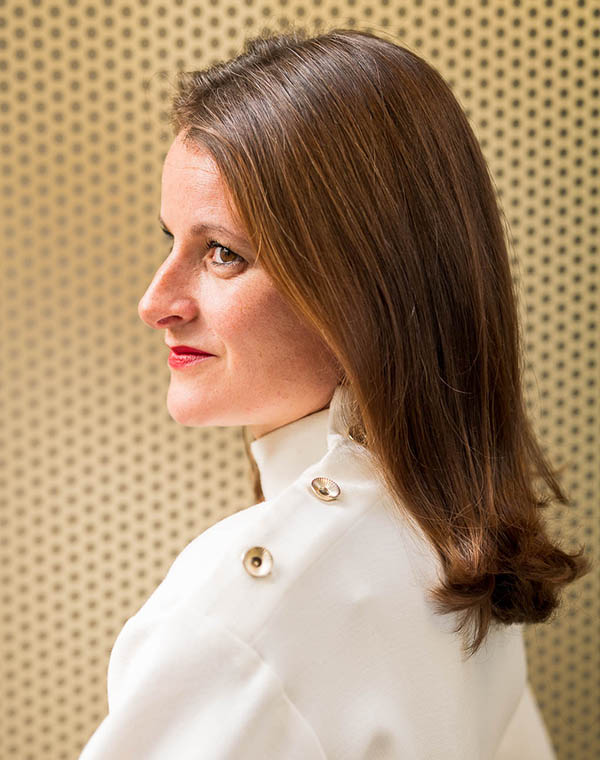 Aug. 21

2023
Sparkling, lively eyes, a ready smile, a noble heart, wine in her veins, a love for beautiful things, long-term vision, daring and deep RESPECT, in capital letters.
"From the very first moment, I knew she was the perfect fit. When we tasted Rare Millésime 2006 together, I noticed many similarities between this sunny vintage and Maud's radiant side: intelligence, generosity, sincerity, and a bold personality. She embodies values that are important to me, with sparkling, lively eyes, a ready smile, a noble heart, wine in her veins, a love for beautiful things, long-term vision, daring, and deep RESPECT, in capital letters. I knew in that first hour I spent with Maud that it was the beginning of a chapter that would fundamentally change the life of Rare Champagne, which she would lead from then on."
What better tribute to Maud Rabin than this one from Régis Camus, the most awarded Cellar Master of the century. Through her presence, the way she listens to others, her talent to transform an idea into a project and each project into an exceptional moment, she has created a style, an attitude, a passion, and a true Art de Vivre. She has helped transform Rare Champagne into a luxury house with the power of her charisma. In less than three years, she brought it back in touch with the reality of new consumers while opening the door to dreams, making each moment unique.
She could read and write at the age of four. She was raised by women, and has her grandmother to thank for her ability to overcome obstacles (which she calls "puzzles") with a smile, to "look at life with a lot of perspective because in every crisis, there are opportunities. It's up to us to transform them." Maud Rabin got her start in fashion marketing and communications management, living in Paris, New York, and Shanghai, then joined Rémy Cointreau, where she spent nearly a decade as Image Director for the Liqeurs and Spirits Division while supporting the digital transformation. She has been at the heart of Rare Champagne since 2018, breathing new life into the Champagne House, driven by the energy that never lets her give up on anything. A French synchronized swimming champion at the age of 10, she learned about discipline, effort, and competition at a very young age. She listens to other people's actions and to her own heart. In everything she does and achieves, she possesses an intuition that is both earthly and divine. For Maud, each new year is like choreography. It isn't a matter of a formula, but rather of a plan, which is different every time, each one linked to the other and supported by a "global vision."
A Scorpio with Leo rising, this Angers native has Latin, Breton, and Native American origins, cosmopolitan roots that give her the ease to conquer international markets by innovating, daring, and opening up conversations. "I thrive on every conversation, every encounter. Agility is key, and although I like to maintain the fundamentals, I enjoy seizing every possible opportunity. Nothing is ever static. For me, everything is always in motion."
Like a conductor, Rare Champagne Director Maud Rabin makes sure that every note in the score is played in a virtuoso manner. From there, we see her charisma and her unique and cheerful way of leading a team with daring and creativity.
Between charity sales and the crew of women she creates for humanitarian projects, Maud is bringing up her two daughters by passing on her values: being able to open up to the world as easily as breathing.
"My mission on this earth is to give life back to everything that is alive but suffering–people, brands, plants–by using beauty as therapy, taking special care to make things beautiful."
Her objective is "to lead by developing strategies that are always a winning combination, a win-win for everyone who is involved in any way. That's how I think, how I act, and I remain convinced that when you do things with your heart, you're never wrong. There is no recipe, no formula. It's a matter of sensitivity. I was made to deliver wonders, so it's like a duty."