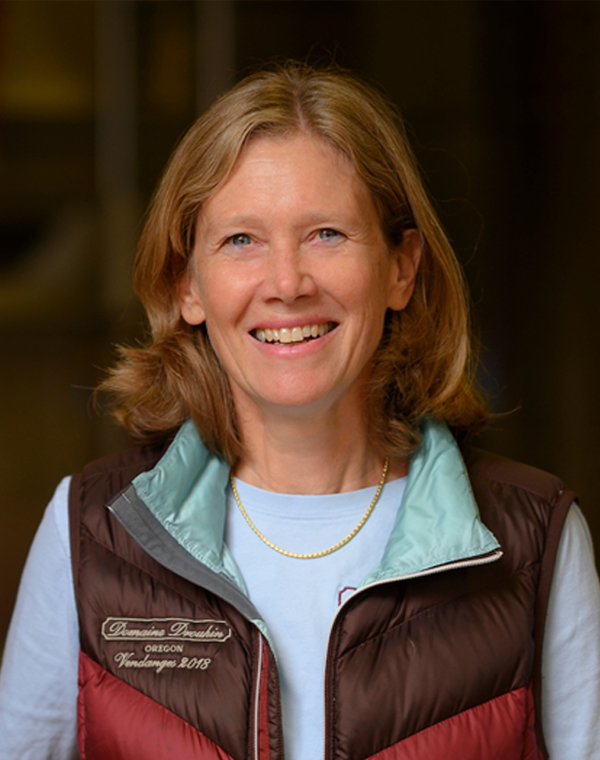 Aug. 21

2023
Born on December 1st at the Hospices de Beaune, exceptionally on a Wine Auction Day postponed that year, Véronique had a predetermined destiny. To complete the picture, she grew up alongside her brothers, running through the vineyards.
She chose the path of oenology at the University of Dijon and was the only woman in her class of 1985. Her education took her to Bordeaux and naturally to the family estate, where she worked alongside winemaker Laurence Jobard, as well as to Oregon to write a new chapter in the Drouhin family's history.
She carried out her first "personal" winemaking in 1988 at the recently acquired Domaine Drouhin Oregon, under her father's ownership. Since then, she has been constantly juggling between Burgundy and Oregon.
Pianist and history lover, her area is the cellar where she used to play hide-and-seek as a child. "It is my duty to respect the grapes that arrive in the winery in order to enhance the signatures of our precious and esteemed terroirs to their fullest potential," emphasizes Véronique, who is the mother of three children: Laurène, Arthur, and Louise.
Thus, the vintages succeed each others as a glorious symphony of precision and purity.