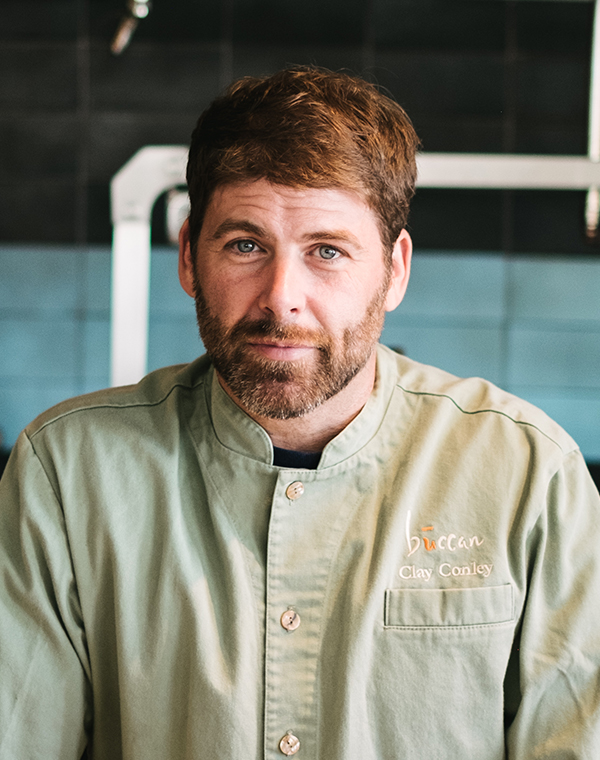 Aug. 21

2023
Chef Clay Conley has worked his way around the kitchen since his teenage years washing dishes. Raised on 30 acres in rural Maine in a 17th century home heated only by wood fire, his childhood was defined by exploring the wilderness, raising farm animals, and tending to the land -­‐‑ which included a family garden and 1000-­‐‑tree orchard. This rustic upbringing ultimately influenced his style in the kitchen, and today Conley is known for his seasonal, robust, wood-­‐‑fired cuisine.
Conley moved to Boston after college to work for Todd English, ultimately serving as the celebrity chef's Director of Culinary Operations, overseeing 18 restaurants around the world. Upon his return
to South Florida, Conley received accolades for his tenure as Executive Chef at Azul in the Mandarin Oriental Miami before relocating to Palm Beach in 2011 to open his first chef-­‐‑helmed venture –Buccan. The modern American restaurant, which continues to be one of the island's toughest reservations, focuses on complex yet balanced small plates, and is credited with revolutionizing the Palm Beach dining scene. Chef-­‐‑driven cuisine in a sophisticated, relaxed atmosphere was a new phenomenon on the island, and Conley followed Buccan's success with Imoto ("little sister"), a Japanese/Asian concept next door inspired by his time living in Tokyo. In 2016, Conley opened Grato, a neighborhood Italian concept in West Palm Beach, which features a wood-­‐‑burning oven and grill.
After a decade of supporting Share Our Strength's No Kid Hungry campaign, in April 2020 Clay and team launched Buccan Provisions Non-­‐‑Profit Corp., a 501(c)3 created to mitigate Palm Beach County's unprecedented community hunger resulting from the pandemic. As of August 2020, Buccan Provisions has donated more than 250,000 homemade, nutritious meals to the Palm Beaches'
most vulnerable citizens via two dozen organizations including the Boys and Girls Club, Adopt-­‐‑a-­‐‑Family, Little Smiles, Hands Together for Haitians and The Guatemalan Maya Center.
Five-­‐‑time nominee for a James Beard Award as a "Best Chef in America: South," Conley and his restaurants have been recognized in national and international media including New York Times, Wall Street Journal, Vogue, Goop, Travel + Leisure, NY Post, Robb Report, Conde Nast Traveler, Miami Herald, Boston Globe, Town & Country, Fodor's and USA Today. Buccan has been praised by Forbes as one of the best restaurants in Palm Beach and has received "Best Restaurant" honors from all area publications. Clay has also cooked on Emeril's Florida, featured on both the Food Network and Cooking Channel, PBS's The Victory Garden, The Today Show and Fox and Friends.