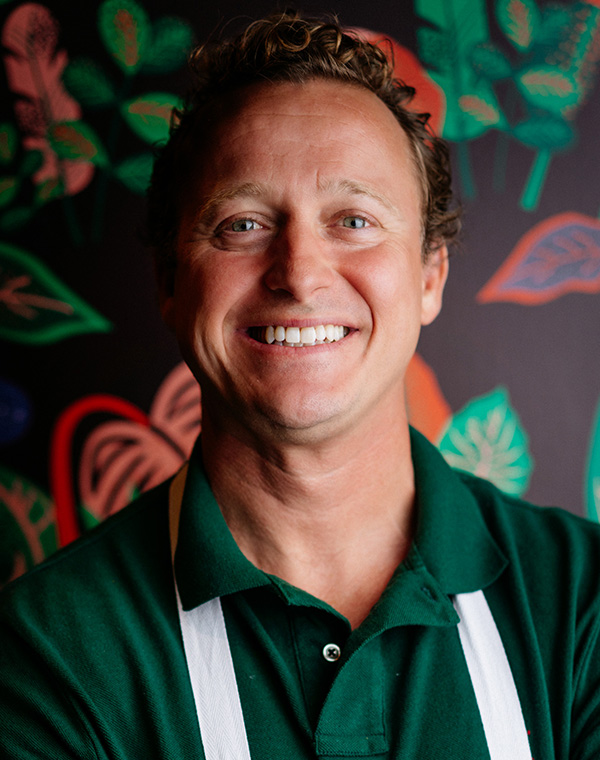 Aug. 21

2023
Bay Area native David Nayfeld boasts a venerable restaurant pedigree having worked alongside some of the most esteemed names in the industry. The value of hard work was understood at a young age for Nayfeld, taking his first job at age 13, working at a local produce market followed by numerous kitchen positions throughout his teen years in restaurants.
Wanting to pursue his passion for cooking, Nayfeld enrolled in The Culinary Institute of America and completed two externships, at Nobu in New York and in San Francisco at Aqua. Impressed with his hard work and talent, Aqua held a position for Nayfeld while he finished culinary school so after graduation, he moved to San Francisco and became a line cook at the restaurant.
After two years in San Francisco, Nayfeld received the opportunity to work with the chef of the century Joël Robuchon and, in 2005, he joined the opening team at the chef's Las Vegas restaurant, Joël Robuchon at The Mansion at MGM Grand. While there, the restaurant earned many accolades including three Michelin Stars, Mobil Five Stars and the AAA Five Diamond Award.
In 2007, with a dream of cooking in New York City, Nayfeld returned to Manhattan to work at the award-winning Cru. A year later, he accepted the highly coveted Senior Sous Chef position at Eleven Madison Park, a restaurant that not only would help define him as a chef, but would change the culinary landscape of New York City. During his time working under Daniel Humm, the restaurant received international acclaim and multiple awards including The World's Best 50 Restaurants, numerous James Beard Awards, Three Michelin Stars, and Four Stars from The New York Times.
While in New York, Nayfeld worked to broaden his knowledge in all areas of the restaurant business.  He took management classes while with Union Square Hospitality as well as pursued his interest in wine becoming a certified sommelier, having passed the first two levels of The Court of Master Sommeliers.
Seeking continued growth and inspiration, in 2012, Nayfeld embarked on a nearly year-long trip around Europe, working with some of the most renowned chefs at the world's top restaurants including Albert & Ferran Adria's Tickets and 41 Degrees in Spain, Philippe Rochat in Switzerland, Jacques Genin in Paris, Mauro Colagrecco at Mirazur and Clare Smyth from Gordon Ramsay in London.
Upon returning from Europe, Nayfeld headed back west, this time to Los Angeles to serve as the inaugural chef for the seasonal, rotating-chef pop up, Fifty-Seven. However, Nayfeld wanted to head home to San Francisco to open his own restaurant.
In 2015, Nayfeld partnered with Matt Brewer, formerly of Hogsalt Hospitality, to start Back Home Hospitality.  They opened their first restaurant, Che Fico, in March of 2018.  The concept explores Italian fare through the lens of California with handmade pasta, pizzas and house made salumi plus dishes from his family's Jewish-Roman heritage known as "Cucina Ebraica." Che Fico has received many accolades from the press including being named one of Bon Appetit's Top 10 Best New Restaurants in America as well as one of Esquire Magazine's Best New Restaurants. Nayfeld was also named Star Chefs 2019 Rising Star Chef.
In April 2019, they opened a second restaurant, Che Fico Alimentari, an off-shoot of Che Fico inspired by the wine bars of Rome.  Located downstairs to Che Fico, Alimentari continues the mission of providing a convivial space to gather with friends to share great food, wine and warm hospitality.
This spring, Back Home Hospitality will open two new concepts at Springline, a 6.4-acre mixed-use development in Menlo Park, California.  They are opening Che Fico Parco Menlo, an evolution of Che Fico created for the Peninsula and Il Mercato Di Che Fico, an Italian-focused market that will feature local produce, prepared foods, a fish and meat butcher counter, salumi, wine, a walk-up gelato window, catering and more.
Nayfeld was one of the founding members of the Independent Restaurant Coalition (IRC), a trade group formed in 2020 as a result of the Covid-19 pandemic to advocate for independent restaurants. The coalition most notably wrote a bill with members of Congress that secured $28.5B for vulnerable restaurants across the country. Nayfeld's dedication and perseverance earned him a seat on the IRC board of directors, a peer-elected position where he continues to work in support of the restaurant industry.  During the pandemic, Nayfeld was awarded both the Jefferson Award for public service for his pioneering program called "Family Meal" which fed people in need as well as the Golden State Warriors Impact Warrior Award for community leadership.  Most recently, Nayfeld was named a semi-finalist for the 2023 James Beard Foundation Award for Outstanding Chef.
Additionally, Nayfeld is working on his first cookbook with author Joshua David Stein called Dad What's for Dinner?, inspired by his culinary exploration with his daughter, Helena. Slated for release in 2024, it is the first book of its kind to speak directly to single fathers — filled with a mix of recipes, tips, meal planning strategies, and a frank emotional discussion of parenting that is guaranteed to help other caregivers feed their families with joy and ease.