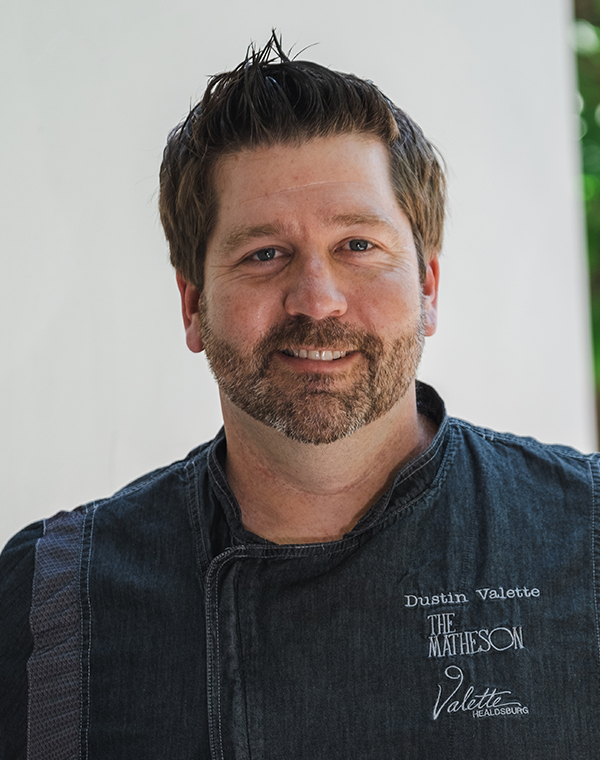 Sep. 18

2018
Ancestral Terroir: Growing Up In Wine Country
When Chef Dustin Valette walked into his great-grandfather Honoré Valette's cellar, fragrant with hanging salumi or picked
grapes in his uncle's vineyard, he was enchanted by the traditions and skill he witnessed. Here he began to learn the interplay of land, time, and heritage. Chef Valette's culinary passion has brought him far from that basement, and then right back to it. Now 40, he lives with his wife (they met at Aqua restaurant) and their two children, in the Victorian farmhouse where Honoré lived in the 1930's. The cellar remains a place of inspiration, where Chef Valette writes new menus, hangs home-made charcuterie, and hosts barrel-tastings with winemaker friends.
Catching The Light: Learning From The Greats
After graduating from the Culinary Institute of American at Hyde Park in 2000, Chef Valette made the bold choice to book his own stagiaire program at San Francisco's most exciting restaurants, Charles Nob Hill, Fifth Floor, La Folie, Fleur De Lis, Gary Danko, and Aqua. Over six months, he learned from the best. This knowledge still drives his culinary ambitions.
Next, Chef Valette landed at Thomas Keller's one-Michelin-star Bouchon in the Napa Valley. He continued to expand his palette at Hokus at the Mandarin Oriental Hotel Honolulu, a five-star, five-diamond property. When Chef Valette came back to the Bay Area, he returned to the place he ended his stage, working at Michelin-starred Aqua in San Francisco, finally as executive sous chef under Laurent Manrique, for three years. At each remarkable kitchen, Chef Valette honed not only his culinary skills, but his leadership style. Whether we are talking about ingredients or team members, Chef Valette works with the best and allows them shine.
After several years, it was time for a cook's tour of Europe. Serious kitchens are worlds unto themselves and Chef Valette was struck by curiosity about places with centuries-old traditions and close communities. Within hours of landing in Rome, he was "gobsmacked by the intensity of a simple roasted chestnut on the street and what it told me about the culture and the place."
Establishing Roots: Coming Home To Healdsburg
Upon his return, he opened and helmed his first kitchen as Executive Chef at VOX Restaurant & Wine Lounge in Henderson, Nevada. After a year and a half, Chef Valette yearned to return to the wine country and start his family. Naturally, he came back Healdsburg, where his great grandfather Honoré settled some 100 years ago.
Here he began his six-years as Executive Chef at Dry Creek Kitchen. While eating and working in Europe, Chef Valette saw how sustainability and tradition run deeper than mere sourcing. A kitchen cannot be separated from land, or from the community. At Dry Creek Kitchen, Chef Valette developed that realization into practices and relationships that continue today. Working with winemakers to create inspired pairings quickly became a hallmark of his tenure.
Bud Break: A Restaurant With Family Ties
Before they had even graduated high school, both Chef Valette and his brother Aaron were already working in restaurants. Over glasses of pilfered wine and a view of the vineyards, they made a pact to open their own restaurant someday. In 2015, that fraternal commitment became a reality when Valette opened in downtown Healdsburg, in a location that was once home to Honoré's French-style Home Bakery. Valette is a fine-casual restaurant and a hugely popular locals' favorite. The menu at Valette is noted for its inventive and flavorful California cuisine, highlighting Chef Valette's French technique and proudly featuring ingredients sourced from Sonoma County.
To Chef Valette, sourcing is more than a transaction—as a kid he played t-ball with Zureal Bernier, a farmer with diversified offerings, including the garlic that is essential to many of Valette's dishes.
Community is at the heart of everything, and from the beginning, Chef Valette was able to develop a philanthropic business model, in which giving is part of profiting, and he strongly believes
that supporting his community is essential to his success.
Fruition: A Love of Wine Becomes a Wine Label
Valette's curiosity about winemaking was piqued as a young man in his family's vineyards. That curiosity was nurtured when tasting wines, building wine programs, and creating wine and food
pairing menus over the years. Eventually, Valette tried his hand at garage wines, sourcing juice from local growers, and together enjoying the fruits of their shared labor. After learning the
process, he decided to start a small production wine brand, Valette Wine, made in collaboration with three notable winemakers, Bob Cabral (Pinot Noir and Rosé of Pinot Noir), Jesse Katz
(Cabernet Sauvignon), and Tom Rochioli (Chardonnay), each masterful stewards of their favored varietal. After a few memorable vintages, the wines have developed their own cult following.
Community At The Table: A Restaurant With A Long History and A Bright Future
The Matheson's origin is a story of deep relationships and heritage. "Only in Healdsburg," Chef Valette shook his head, telling the story of how the Matheson had grown from a glass of wine with his now business partner, Craig Ramsey, to a restaurant, a sushi kitchen with chef Ken Tominaga, and rooftop lounge on the Plaza. The building was the original location of Honoré's Snowflake Bakery, which is integral to the project. Every element of The Matheson has a story: from murals of farmworkers and firefighters, to the friends and neighbors who supply produce and meats, the connections run deep.
Chef Valette's menu is a modern ode to micro-seasonal ingredients, exploring the possibilities of a locally-foraged porcini, or the range of a Purple Heart tomato. For Chef Valette, finding the limitlessness in the specific offerings of the moment is a play of craft and passion.
"Cooking is my passion and I cannot wait to share it with you. Owning and operating restaurants allows me to share with our community what I love, highlighting our amazing farmers, ranchers
and artisans that make Sonoma County such a special place to call home."