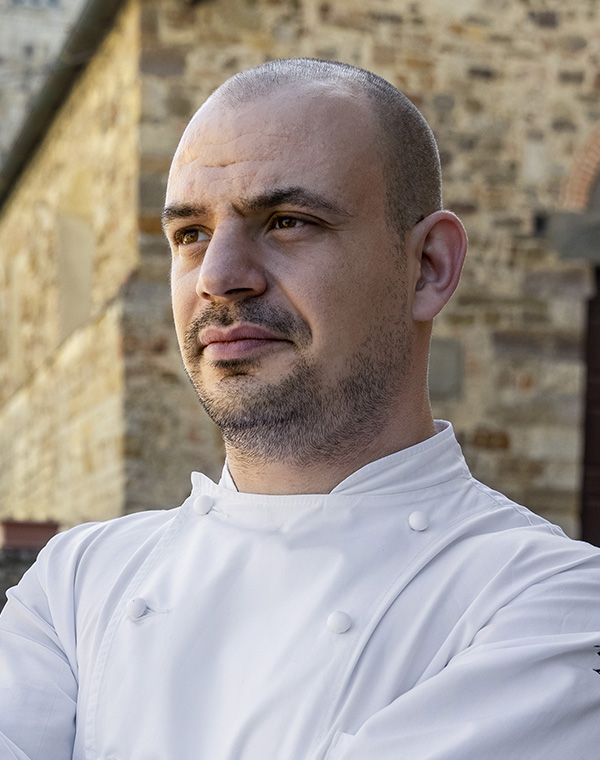 Aug. 21

2023
After having graduated from the Buontalenti Institute in Florence, Matteo Lorenzini took his first steps at Gaetano Trovato's Arnolfo restaurant. He worked in France for almost 10 non-consecutive years, 8 of which in Alain Ducasse's restaurants. He started at Le Louis XV restaurant in 2006 and became one of the chefs of the AD group in 2018: a first-time experience for an Italian chef. Lorenzini received a Michelin star and the "Youth Of The Year" award from "Le Guide dell'Espresso" in 2015 with Le Tre Lune restaurant, followed by his experience as Executive Chef at the Se·sto on Arno restaurant from 2015 to 2018.
Since April 2021, Lorenzini has led the cuisine of the Osteria di Passignano restaurant, owned by the Antinori family, making a return to his native Tuscany after three years with Alain Ducasse once again, from the Cucina Mutualité in Paris to the three-starred Alain Ducasse at The Dorchester in London.
Hence, a homecoming back to his Tuscan traditions for Matteo Lorenzini, this chef with shining talent and a great knowledge and mastery of techniques and fresh ingredients who has now put his skills at the service of the most authentic Tuscan flavors in the name of essentiality. A continuous evolution, both personal and for Osteria di Passignano, aimed at exalting a vegetable-based cuisine, without sacrificing taste.