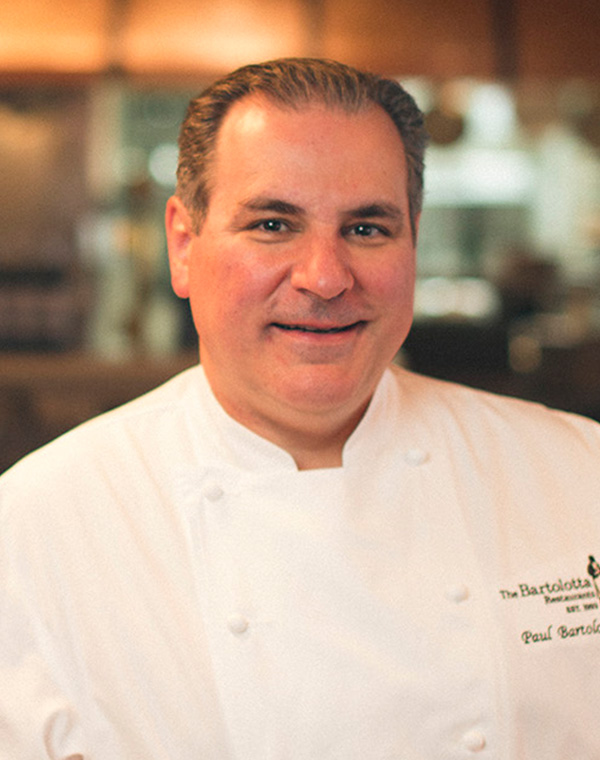 Sep. 06

2022
Two-time winner and four-time James Beard Award nominee Chef Paul Bartolotta is the co-founder and owner of The Bartolotta Restaurants, a nationally recognized premier restaurant and catering organization, celebrating 30 years of business in the Greater Milwaukee region.
An internationally celebrated chef and restaurateur, Chef Bartolotta has brought his culinary talent and vision to kitchens all over the world – from Italy to Paris to New York to Las Vegas, and back home to Milwaukee. With an education and training steeped in tradition and authenticity, Chef Bartolotta's culinary skills have earned him numerous accolades from the James Beard Foundation, Michelin Guide, New York Times, the Distinguished Restaurants of North America (DiRoNA), AAA, Chicago Sun-Times, Chicago Tribune, Milwaukee Journal Sentinel, and others. His passion for creating authentic experiences continues to inspire the growth of the company that he and his brother, Joe, launched in 1993. Their achievements have earned them national recognition, with a nomination by the James Beard Foundation for Outstanding Restaurateur four years in a row – 2017, 2018, 2019, and 2020.
Originally from Wisconsin, Chef Bartolotta offers his vision, expertise, and strengths in new business development to The Bartolotta Restaurants, contributions he has made since he and his brother opened their first concept, Ristorante Bartolotta dal 1993, an inviting, authentic Italian restaurant. Today, The Bartolotta Restaurants operates 17 award-winning restaurants and catering facilities, including Bacchus – A Bartolotta Restaurant, Bartolotta's Lake Park Bistro, and Harbor House.
Chef Bartolotta graduated from the Restaurant and Hotel Management Program at Milwaukee Area Technical College in 1980. His professional training began in New York City with famed restaurateur Tony May, owner of the Rainbow Room and founder of Gruppo Ristoratori Italiani. With May's support, Chef Bartolotta traveled to Italy and trained in some of the country's most prestigious restaurants, learning the art of authentic Italian cooking. Throughout his career, he has worked at 15 restaurants in Italy – from Sicily to the Alps – acquiring knowledge and expertise in 14 of the country's 22 culinary regions, and has been recognized by the President of Italy as an ambassador of Italian cuisine. In France, Chef Bartolotta has worked alongside some of the world's most acclaimed chefs, including Paul Bocuse and Roger Vergé, among others, and at restaurants that include La Maison Troisgros and Taillevent.
Following his education in Europe, Chef Bartolotta returned to New York to open San Domenico restaurant, earning three stars from The New York Times at the age of 24.
Chef Bartolotta moved to Chicago in 1991, where he spent nine years as Executive Chef and Managing Partner of Spiaggia. In 1994, he won the prestigious James Beard Award for Best Chef Midwest. Chef Bartolotta directed Spiaggia to many national fine dining awards including: a Four Diamond Rating from AAA, the DiRoNA Award and numerous awards from both Chicago Magazine and The Chicago Tribune.
In 2001, Chef Bartolotta opened Bartolotta Ristorante di Mare, at Wynn Las Vegas on the famed Las Vegas Strip, and went on to win the James Beard Award for Best Chef Southwest in 2009, one of five of the awards given in Las Vegas. This world-class restaurant served fresh seafood flown in daily from Italy. With a stellar wine list and high reviews from national publications, Chef Bartolotta successfully created a piece of Italy in the desert.
Chef Bartolotta serves on the board of Bocuse d'Or, where the U.S. team in 2017 won the prestigious gold medal award for the first time, as well as the board of the Wisconsin Restaurant Association. Chef Bartolotta is known to television audiences worldwide for his appearance on Italian, France, and Japanese television; and in the U.S. he is recognized for his appearances on Top Chef, Iron Chef, The Today Show, Jimmy Kimmel Live!, The Talk, and Lifestyles of the Rich and Famous, among others. He has also been recognized by the president of Italy as an authentic ambassador of Italian cuisine.
In 2019, Chef Bartolotta assumed the leadership role at The Bartolotta Restaurants upon the passing of his brother. When he is not cooking, Chef Bartolotta loves spending time with his wife and daughter and traveling.