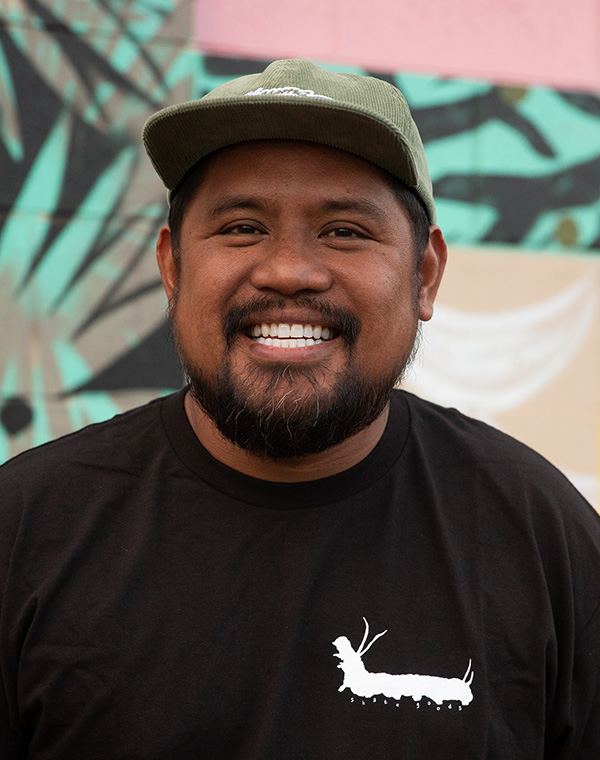 Sep. 06

2022
Born in Hilo, on the Big Island, Sheldon acquired his love for cooking from his parents. His path led from Hilo High to the Culinary Institute of the Pacific, onto an internship at Walt Disney World. Upon returning to Hawaii, Sheldon attended Maui Culinary Academy. Sheldon competed in the 10th season of Bravo Network's Top Chef: Seattle, making it to the finals, and winning Fan Favorite.  He returned to the show again in 2017 for season 14: Charleston, once again winning Fan Favorite.  In 2016, Sheldon opened up his very first solo restaurant, Tin Roof, in Kahului, Maui, where he serves up local dishes in take-out bowls.  Sheldon's food is a playful take on classic local dishes, including a variety of poke, kau kau tins, sandwiches, noodles and more.  His mix of innovative modern cuisine and adherence to tradition, influence his dishes and help shape his menus.  His growing legion of loyal fans will attest to his award winning creativity and palate.
In Fall 2018, Sheldon opened Lineage, his second solo restaurant and full service concept delighting guests with traditional local Hawaii fare in Wailea, Maui. In 2019, Lineage was named a James Beard Award semifinalist for "Best New Restaurant." In 2020, Sheldon left Lineage to focus on writing his first cookbook, Cook Real Hawai'i, which came out in the Spring of 2021 from Clarkson Potter. Cook Real Hawai'i showcases 100 recipes that embody the culturally diverse flavors of the islands, and has been celebrated by the likes of The New York Times, The Washington Post, NPR, The New Yorker, Bon Appetit, Vice Munchies, Serious Eats, Robb Report and more. In 2022, Sheldon became a short-listed nominee for Best Chef Northwest & Pacific by the James Beard Foundation.
In July of the same year, Sheldon and his wife Janice, took over Hawai'i mainstay Tiffany's restaurant, adding to their portfolio and continuing to showcase the authentic flavors of his homeland to a global audience.  Sheldon has appeared on such national TV shows as Today Show, Good Morning America, CBS Saturday Morning, Access Daily, E! Daily Pop, Hallmark Home & Family, The Globe, Gordon Ramsey's Uncharted, CNN's Parts Unknown, and even had his own 4-season video series on Eater, titled "Cooking in America."
Sheldon resides in Maui with his wife Janice and their four children.
Chef Sheldon's Awards and Accolades:
2022 James Beard Finalist, Best Chef: Northwest & Pacific
2019 James Beard Semifinalist, Best New Restaurant
2019 Hale 'Aina Award for Best New Restaurant (Reader's Choice Gold)
2019 Hale 'Aina Award for Best Maui Restaurant (Finalist)
2019 Maui Time's Best New Restaurant
2019 Maui Time's Best Chef
2019 Maui Time's Best Bar (Lineage)
2019 Maui Time's Best Cheap Eats (Tin Roof)
2016-17 Season 14 "Top Chef" Charleston, Fan Favorite
2015 Hawaii Magazine's Top 5 Best Hawaiian Chefs
2015 Hawaii Magazine's Best Hawaiian Restaurant "MiGRANT"
2014 Hawaii Magazine's Top 5 Best Hawaiian Chefs
2014 FOOD & WINE Magazine's 2014 People's Best New Chef for the Pacific & Northwest
2014 Best Chef and Best New Restaurant, 2014 Maui Time Readers Poll
2013 Maui No Ka Oi Magazine Aipono Awards Chef of the Year (vote by other chefs)
2013 Maui News Best of Maui: Maui's Best Chef
2012-13 Season 10 "Top Chef" Seattle, Finalist, Fan Favorite
2012 Food & Wine Magazine's People's Choice Best New Chef for the Pacific & Northwest
2012 Two James Beard Award nominations for Rising Star Chef of the Year and Best New Restaurant
2012 Starchefs.com Hawaii Rising Star Concept Chef
2011 Maui No Ka Oi Magazine Aipono Awards Chef of the Year