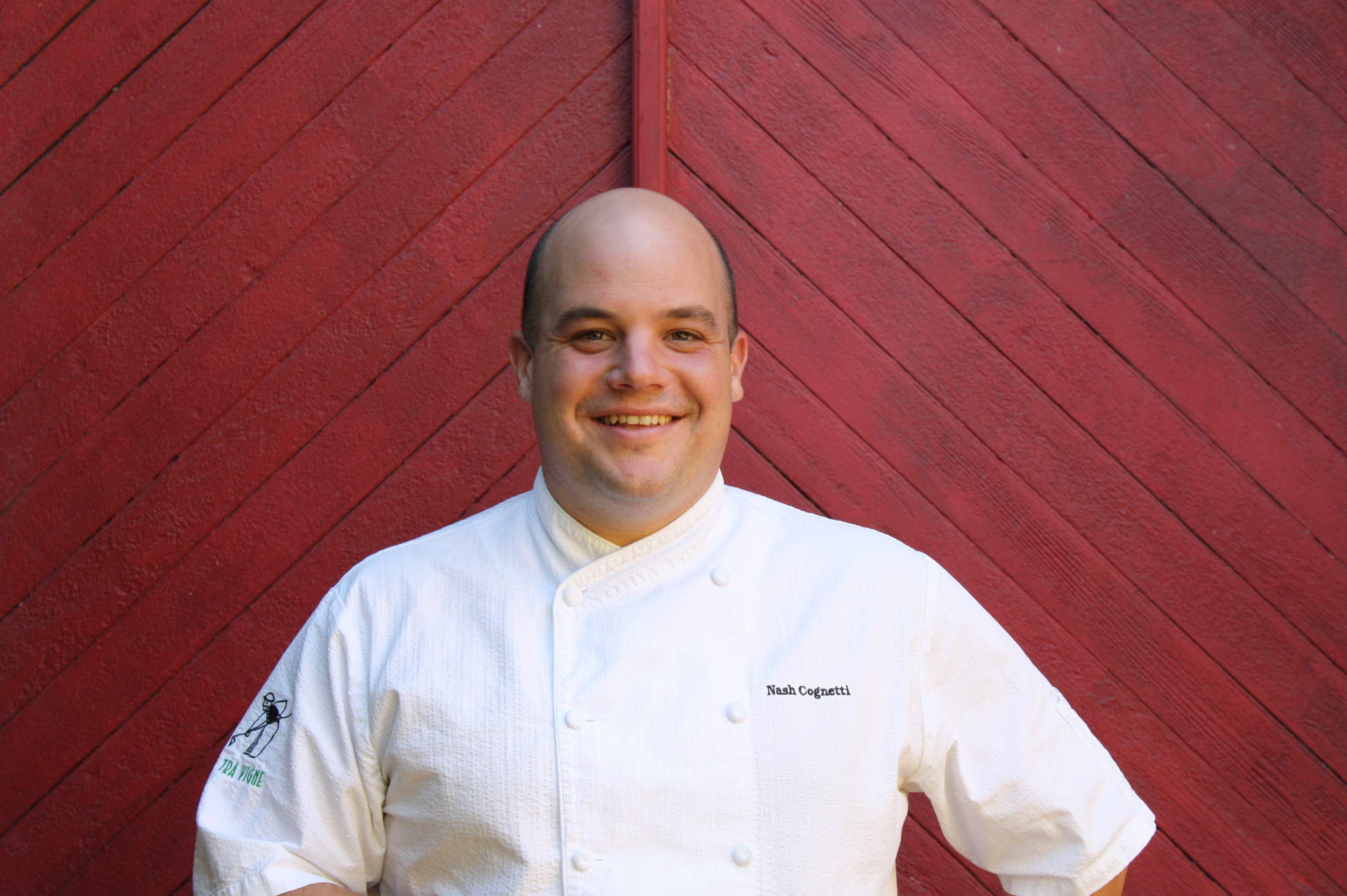 Sep. 16

2015
Please join us in welcoming Nash Cognetti as a Celebrity Chef at the 2016 Naples Winter Wine Festival!
For nearly 10 years, Nash Cognetti has been the mastermind behind the highly successful Tra Vigne Restaurant. Situated in historic St. Helena, California, Tra Vigne is a must-stop for tourists and locals alike. The beautiful surroundings give guests the illusion they've been transported to a remote Italian villagio. Chef Nash has created an Italian menu infused with his passion and signature on every plate. Best known for its mouth-watering Steak alla Fiorentina, Tra Vigne is also popular for its extensive wine cellar that features a list of 400 wines from neighboring Napa Valley vintners. We recently chatted with Chef Nash to welcome him to the 2016 Naples Winter Wine Festival and to find out a bit more about him. See what he had to say about his most embarrassing moment, his favorite dish to prepare for himself, and more.
If you could make a meal for one person, dead or alive, who would it be and why?
I would definitely choose my grandfather. He passed away before I began my journey into the culinary world. He never had the opportunity to see his grandson in the role of a chef. I would love to experience that with him now.
What was your first job in the culinary industry?
When I was 12 years old, I started working at the family produce business, sorting tomatoes and unloading oranges. I did that throughout high school. Then I became a line cook at Burlington Bay Café when I was at the University of Vermont. But I graduated with a degree in business and found myself applying for jobs in the finance industry. When I realized it wasn't the job for me, I left the cold weather and went to Big Sur, where I started working in the kitchen at Ventana.
What's your worst kitchen mishap?
I'm not too sure about a mishap, but I have an embarrassing moment for sure. I was 21 and trying to establish myself as the new guy on the crew at Ventana. I was coming out of the refrigerator with a sheet tray containing all of the sauces for my station. I slipped and fell, and all 12 sauces splattered all over me. I had to spend the rest of the day with Chardonnay cream sauce in my socks.
What's your favorite place to eat in the world and why?
Any place in Italy is phenomenal. If I have to pick one it would be Trattoria Cammillo in Florence. The brick wall atmosphere, the truffles, the best wines… It's everything you want simple Italian food to be.
When are you the happiest?
I'm happiest at work in the kitchen. I love being in the kitchen side by side with my people. I've been working with some of them for 10 years now. I inspect every plate before it leaves for the dining room. My focus is to make sure people have a stellar experience—and that is heavily dependent on what is on their plate.
What's your favorite dish to prepare for yourself, and what wine do you pair with it?
I love to make pasta. My favorite is Rigatoni alla Carbonara—but it has to be made the proper way, the Roman way, which means no cream. I pair it with a 2010 Valdicava Madonna del Piano. Dessert would be zabaglione with fresh peaches.