We all know that a bottle of wine makes for a perfect gift no matter the season. But in the spirit of the holidays, we've asked our #NWWF19 expert sommeliers and vintners to give us their wine recommendations for this holiday season. Check out their responses below!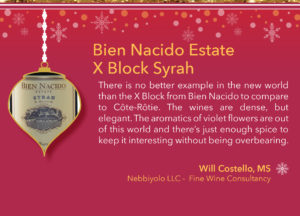 "There is no better example in the new world than the X Block from Bien Nacido to compare to Côte-Rôtie. The wines are dense, but elegant. The aromatics of violet flowers are out of this world and there's just enough spice to keep it interesting without being overbearing."
— Will Costello, MS, of Nebbiyolo LLC – Fine Wine Consultancy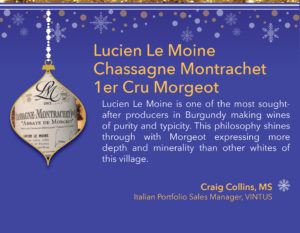 "Lucien Le Moine is one of the most sought-after producers in Burgundy making wines of purity and typicity. This philosophy shines through with Morgeot expressing more depth and minerality than other whites of this village."
— Craig Collins, MS, Italian Portfolio Sales Manager for VINTUS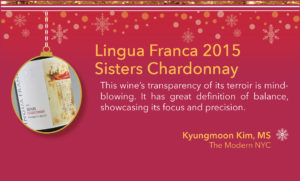 On Lingua Franca's 2015 Sisters Chardonnay: "This wine's transparency of its terroir is mind blowing. It has great definition of balance, showcasing its focus and precision."
— Kyungmoon Kim, MS, of The Modern NYC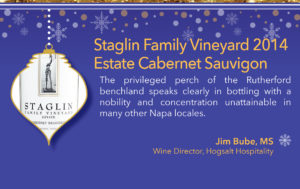 On the Staglin Family Vineyard's 2014 Estate Cabernet Sauvignon: "The privileged perch of the Rutherford benchland speaks clearly in bottling with a nobility and concentration unattainable in many other Napa locales.
— Jim Bube, MS, Wine Director at Hogsalt Hospitality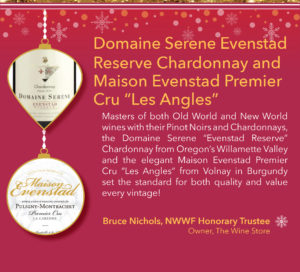 "Masters of both Old World and New World wines with their Pinot Noirs and Chardonnays, the Domaine Serene "Evenstad Reserve" Chardonnay from Oregon's Willamette Valley and the elegant Maison Evenstad Premier Cru "Les Angles" from Volnay in Burgundy set the standard for both quality and value in every vintage!
— Bruce Nichols, NWWF Honorary Trustee, Owner of The Wine Store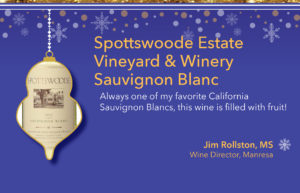 On Spottswoode Estate Vineyard & Winery's Sauvignon Blanc: "Always one of my favorite California Sauvignon Blancs, this wine is filled with fruit!"
— Jim Rollston, MS, Wine Director at Manresa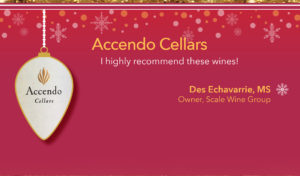 On Accendo Cellars: "I highly recommend these wines!"
— Des Echavarrie, MS, Owner of Scale Wine Group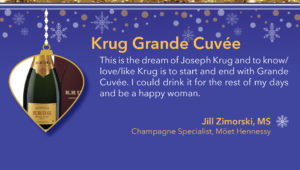 "This is the dream of Joseph Krug and to know/love/like Krug is to start and end with Grande Cuveé. I could drink it for the rest of my days and be a happy woman."
— Jill Zimorski, MS, Champagne Specialist for Möet Hennessy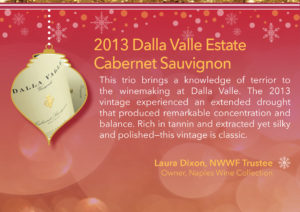 On Dalla Valle Estate's 2013 Cabernet Sauvignon: "This trio brings a knowledge of terroir to the winemaking at Dalla Valle. The 2013 vintage experiences an extended drought that produced remarkable concentration and balance. Rich in tannin and extracted yet silky and polished – this vintage is classic."
— Laura Dixon, NWWF Trustee, Owner of the Naples Wine Collection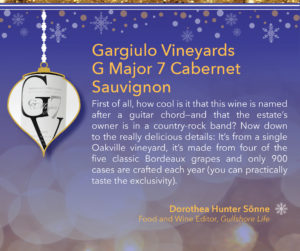 On Gargiulo Vineyard's G Major 7 Cabernet Sauvignon: "First of all, how cool is it that this wine is named after a guitar chord – and that the estate's owner is in a country-rock band? Now down to the really delicious details: It's from a single Oakville vineyard, it's made from four of the five classic Bordeaux grapes and only 900 cases are crafted each year (you can practically taste the exclusivity)."
— Dorothea Hunter Sönne, Food and Wine Editor for Gulfshore Life
If you'd like to view the list in its entirety, follow this link!