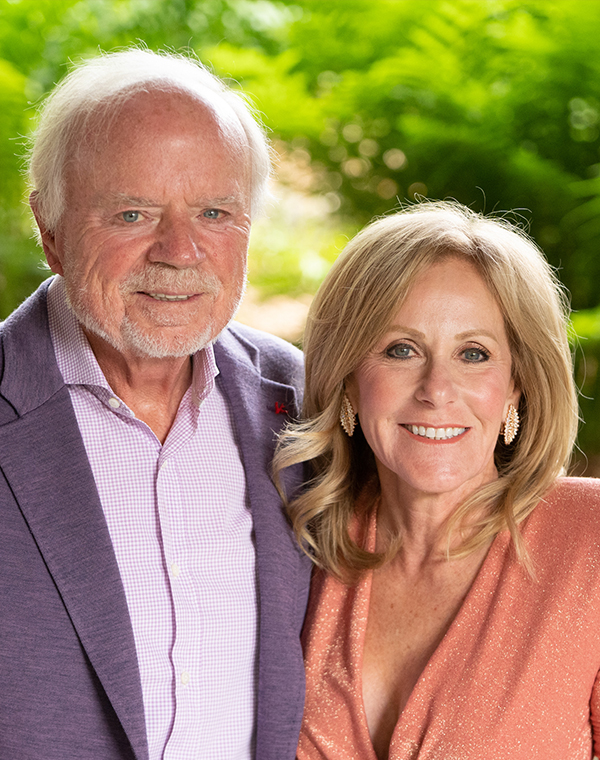 Oct. 04

2016
Simone Chassin Lutgert was born and raised in Pensacola, FL. She attended Memphis State University in Tennessee where she received a Bachelor of Science in Education. She was a member of Kappa Delta Phi National Honor Society and graduated magna cum laude in 1973. Simone lived in Memphis for 27 years raising her family and working as a sales & marketing executive, and in 1996 retired to Naples, Florida with her family. Simone spends most of her time volunteering for various charitable organizations. She was asked to be an Emeritus Board Member of the Golisano Children's Museum of Naples, C'MON, after serving 7 years as a Board member and the Capital Campaign Chairman, where she raised over $30 million. Simone served three years as a committee member for the Hats in the Garden Luncheon, which benefits the Naples Botanical Garden. She is a 5 time member of the Magnolia Ball Steering committee, which benefits the Magnolia Endowment for Research and Education at NCH/Lutgert Cancer Center. Simone chaired the 2015 Ball along with her husband, Scott. Simone is co-founder of the Women of Means outreach program at the Shelter for Abused Women & Children. She served as VIP Party co-chairman for the 2012 Naples Winter Wine Festival, marketing and creative director for the 2005 and 2007 festivals, Auction Day co-chair for the 2004 festival, and served on the grant committee for the Naples Children and Education Foundation for 2 years. In addition, Simone and her husband have hosted vintner dinners for over 12 years and are Emeritus members on the Board of Trustees of the Naples Children and Education Foundation/Naples Winter Wine Festival. Simone's numerous awards include: 2015 25 over 50, Naples Daily News; 2013 Stars in the Arts (along with Scott), United Arts Council of Collier County; 2013 Ken Venturi Award, The Shelter for Abused Women & Children; 2010 Woman of the Year, Gulfshore Life magazine; 2010 Donna Karan's "Women Who Inspire" and 2010-2013 DK Style Ambassador; 2008 Outstanding Philanthropist (along with Scott), Community Foundation of Collier County; and 2008 Women of Style (now Women of Initiative), n magazine.
Simone enjoys spending time with her family and friends as well as traveling, playing tennis and golf, boating and working out. Together with Scott they have 7 children, 2 sons-in-law, 1 daughter-in-law and 8 grandchildren. In addition to Naples, they spend their summers at Linville Ridge Country Club in the mountains of Linville, North Carolina.
Scott Lutgert was born and raised in Chicago, IL. He attended Stanford University in California where he received a Bachelor of Science in Economics and a MBA from the University of Chicago.
He has been a resident and real estate developer in Naples and Southwest Florida since 1970 and serves as the Chairman of The Lutgert Companies. Through his leadership, The Lutgert Companies developed Park Shore, which includes 17 luxury high-rises. Additionally, the company is developed a total of eight luxury high-rises in Bonita Bay.
Scott has also developed two golf course communities, various shopping centers and office buildings including Estuary at Grey Oaks, Linville Ridge in North Carolina, The Village on Venetian Bay, The Promenade, The Northern Trust Building, Mercato, a mixed use center in North Naples, and most recently the Residences at Mercato. In 1984, Scott founded Premier Properties of Southwest Florida, Inc., to serve as the brokerage company for The Lutgert Companies' developments. In November of 2010 Premier Properties affiliated with Sotheby's International Realty; changed its name to Premier Sotheby's International Realty; expanded throughout Florida; and currently operates offices from Orlando to Marco Island in Florida and offices in North Carolina. It's headquarters is in Naples, Florida. The Lutgert Companies owns Lutgert Title, Lutgert Insurance, and Premier Commercial Properties. The company also owns many city web sites including www.naples.com, www.bonitasprings.com and www.marcoisland.com.
Scott is a member of many local and national associations and is currently on the Board of Directors for Florida Gulf Coast University and Florida's Council of 100. He has served on the Boards of the Shelter for Abused Women and Children, The Philharmonic of Naples, Patty & Jay Baker Naples Museum of Art, Naples Community Hospital and the Naples Children and Education Foundation/Naples Winter Wine Festival, among others. He has been named a business Leadership Hall of Fame laureate by the Junior Achievement (2002) and Gulfshore Life's Man of the Year (2004). Scott is the recipient of the Pathfinder Award from the Urban Land Institute (2004); the Outstanding Leaders in Philanthropy Award (2004) with the Trustees of the Naples Children and Education Foundation; the Edison College Foundation LIFE (Leadership In Fostering Education) Award (2007) with his father, Raymond L. Lutgert; the Outstanding Philanthropists Award (2008), and the United Arts Council – Stars in the Arts Award (2013) with his wife, Simone Lutgert.