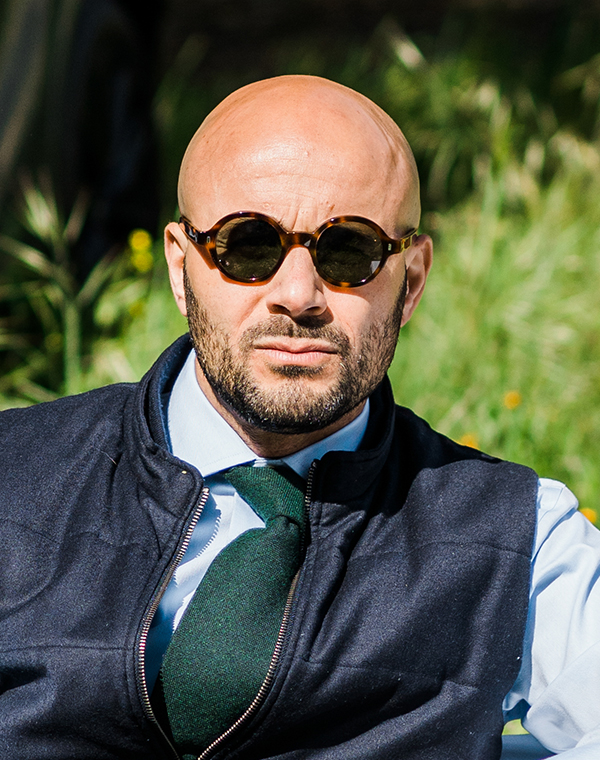 Aug. 21

2023
Growing up in southeast Washington, DC, Carlton McCoy., Jr.'s upbringing was an unlikely springboard for his meteoric rise in the wine industry. Named a Master Sommelier in 2013 at just 28 years old, McCoy was one of the youngest inductees and the second African-American to earn this prestigious title.
At home, McCoy's family preferred beer or whiskey and he had little exposure to wine. But food was another story: McCoy spent years at his grandmother's side in the family's catering business, learning kitchen basics, prepping vegetables and eventually cooking as well. "My grandma was an amazing cook," he says, "and she was by far the leading influence behind my career in the restaurant business."
Motivated to build on his interest in the culinary arts, in high school McCoy enrolled in a class sponsored by the Careers Through Culinary Arts Program, or C-CAP. In 2002, he won a C-CAP citywide cooking contest and earned a full scholarship to the Culinary Institute of America in Hyde Park, N.Y. At the CIA, something new stood out for him: "The wine class with Steven Kolpan was a revelation to me," he explains. "It opened my eyes to a completely new world. I went to all the tutoring sessions to learn as much as I could about wine."
After graduation in 2006, McCoy honed his skills in revered institutions including Thomas Keller's Per Se, Marcus Samuelsson's Aquavit, Tom Colicchio's Craft Steak in New York and Eric Zeibold's CityZen at The Mandarin Oriental in Washington, DC. It was at CityZen that he got serious about wine and began studying for the Court of Master Sommeliers certifications, guided by Andy Myers, MS. "He's the person in this industry who changed my life," McCoy states. "He was the first person to take me under his wing and tell me that I may have a future in this."
In 2011, McCoy joined the team at The Little Nell in Aspen, CO, inspired by the hotel's award-winning wine program and reputation as a training ground for Master Sommeliers. After earning the MS title in 2013, he was promoted to Wine Director, overseeing a staff of 150 and The Little Nell's acclaimed 20,000-bottle wine cellar.
McCoy became President and CEO of Heitz Cellar in December 2018, after its acquisition by Gaylon Lawrence, Jr. To McCoy, Heitz Cellar represents a very particular style of Napa wines: ones that speaks to an earlier era in California winemaking.
In July 2020, McCoy and Lawrence formed Lawrence Wine Estates, which encompasses Heitz Cellar, Stony Hill Vineyard, and Burgess Cellars, amongst other historic Napa Valley vineyards. At this time, McCoy was named Managing Partner of Lawrence Wine Estates. During the same period, McCoy and Lawrence launched Demeine Estates, a collective of high-quality wineries based domestically and internationally and led by President Philana Bouvier. Demeine Estates acts as the sales and marketing powerhouse for a curated portfolio of brands.
"There has to be reverence when it comes to these historic brands that create the greatest wines in the country and the world," he states. "Our aim is to create a diverse portfolio of wine estates creating the highest quality, most terroir expressive wines possible while encouraging innovation and sustainable farming practices," says McCoy. "Hospitality is at the root of the wine industry, and we want to bring producers, industry members and consumers together around our shared passion for great wines and their ability to connect us all.
In July 2020 McCoy along with industry leaders Tahiirah Habibi, and Ikimi Dubose announced the launch of The Roots Fund, established to address the lack of diversity in the wine community, specifically amongst Black and Indigenous populations. The organization will provide resources and financial support through educational scholarship, wine education, mentorship, and job placement.
Recently, McCoy, one of three Black Master Sommeliers in the world, has been appointed to the Court of Master Sommelier's Diversity Committee. The Court of Master Sommeliers sets the global standard of excellence for beverage service within the hospitality industry with integrity, exemplary knowledge, and humility. This year the organization has pledged to sponsor scholarships and sensitivity training to boost diversity efforts in the wine industry.  McCoy has also recently joined the James Beard Foundation's Board of Trustees, as well as the advisory board of Vinous Media. In 2021, The Culinary Institute of America named McCoy to its board of trustees, which consists of 25 highly respected leaders in the foodservice industry for the business world and provides expert governance and guidance for the college.
In 2022, Nomad, the six-part documentary following McCoy on his quest to find the places where food, music, art and culture collide, debuted on CNN. The series chases what it means to be authentic, celebrating similarities and differences across the world to illuminate the universal threads that connect us all.
Adventurous and athletic, McCoy enjoys traveling the world in search of great wine and spirits and pursuing physically challenging outdoor activities including biking and running marathons.