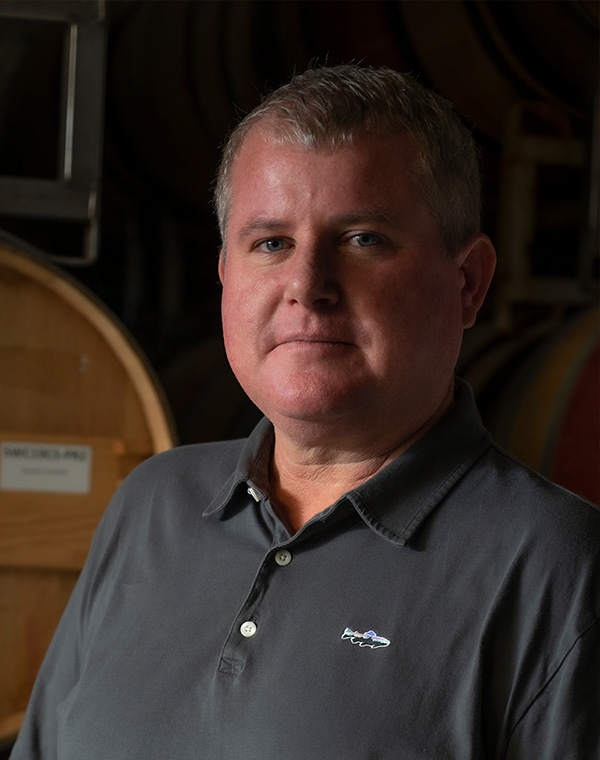 Aug. 21

2023
Craig Becker has devoted his career to farming at the highest level in the Napa Valley, championing sustainability in the community while maintaining a commitment to making wines of uncommon quality showcasing the distinct qualities of the vast property. As founding member of Somerston Estate, he spearheads the farming and winemaking for two of Napa Valley's most esteemed wine brands: Somerston Napa Valley and Priest Ranch Wines. Combining over 25 years of leadership experience throughout these highly regarded estates, his background in plant physiology, soil science, and love of the outdoors inform his mission to not only cultivate a Napa Valley legacy, but also a steadfast team that focuses on a collective respect for the land and innovative winemaking.
Raised in Long Beach, California, Becker's love of nature led him to explore educational opportunities in Northern California. Upon spending a year at Santa Rosa Junior College, he transferred to University of California, Davis, to further his aforementioned studies into a dedicated career focused on enology and viticulture. It was during this time that he met his wife, Courtney, and seized a harvest position at Robert Mondavi Winery. Here, he learned the ropes as a lab technician for 18 months while simultaneously focusing on his education. During this time numerous mentorships and bonds were established, laying a foundation for future collaborations and cementing Becker's belief that relationships are absolutely crucial to success in wine and agriculture. "When it comes to the wine industry, I often say that you can have all of the elements of success – the land, the wine, and the vision – but without the right team of people, success will remain out of reach," he says.
Following graduation in 1997, Becker joined Spring Mountain Vineyard as assistant winemaker, where he was drawn to the hands-on opportunities to work in both the
winery and vineyard. Through passion, grit and a commitment to creating a familial team with a shared goal, he was promoted to winemaker after nine months, a position in which he oversaw the redevelopment of 175 acres of the property and ultimately proved to be a seminal role in his career.
In 1999, Becker founded his own consulting business, Becker Wines and Vineyard Management, and launched Peacock, a single-vineyard Cabernet Sauvignon from a
six-acre property in the Spring Mountain District. The success of Peacock brought with it a series of premium vineyard consulting projects, including the development
of the Dierberg and Star Lane sites in California's Central Coast. By 2004, Becker Wines and Vineyard Management had matured to a full-time business with 10 clients, including Kelleher Family in Oakville where he continues to make wine to this day.
A private pilot, Becker launched Highflyer in 2004, a label which allowed him to fly to vineyards throughout California sourcing fruit, including the property which
would ultimately become Somerston Estate. Inspired by a trip to France for Découvertes en Vallée du Rhône, he came in looking to source Grenache for a Gigondas-style blend called "Bad Habit," and was captivated by the property's potential. It wasn't long before he was presented with the opportunity to oversee winemaking for Priest Ranch. When the estate acquired the neighboring Elder Valley in 2006, Becker merged his Highflyer brand with Somerston Estate, and took the helm of the 1,682-acre project, embracing a holistic, land-focused approach that would become the cornerstone of his winemaking and vineyard management philosophy.
As the driving force behind Somerston and Priest Ranch's winemaking and vineyard operations, Becker is insistent on precision farming that not only produces top
grade fruit for Somerston Estate but continues to serve as a trusted and highly respected grower for some of Napa Valley's top producers. The heart of this philosophy lies in the level of diligence that is made possible by Somerston's team of full-time farm workers. Becker takes immense pride in the long-standing employees and their shared dedication to producing exceptional wines. By fostering an environment of innovation and entrepreneurship, Becker empowers his team to take ownership of their respective roles for the sake of their individual growth, benefitting both the Napa Valley community and the estate. Supporting this long-term goal, Becker is adamant about providing a living wage, insurance, and benefits to his team of farm workers, recognizing that a skilled team is essential for maintaining the highest quality wines and respect of the land, which has become and will always be the foundation of Somerston Estate's success.
Today, Becker and his team are committed to ensuring that the land remains healthy and productive for future generations. Under his leadership, Somerston Estate continues to evolve and is well on its way to becoming one of Napa Valley's great wine estates. "We're laying the foundation for the next 50 to one-hundred years, and with that comes a lot of responsibility to get it right. It is truly a longterm project," emphasizes Becker.
A devoted father and farmer, Becker cherishes his free time with family, tending to his gardens with his children, woodworking and indulging his love of aviation.