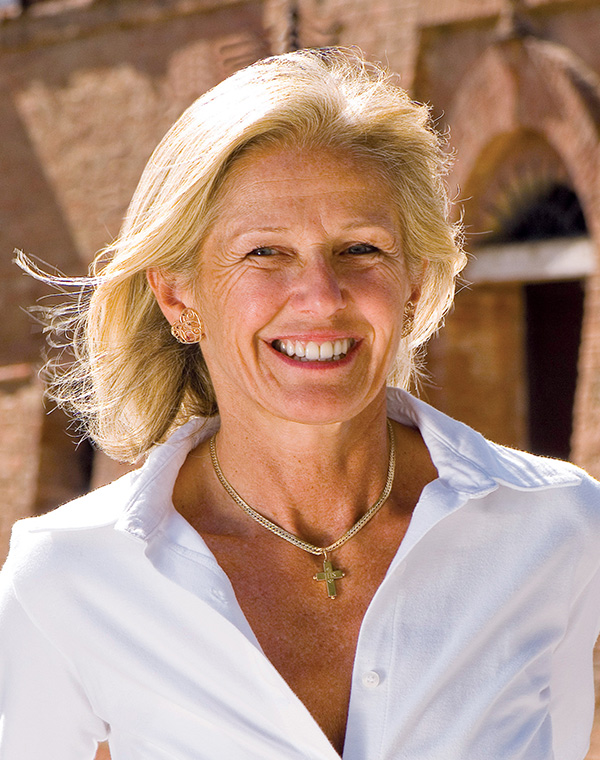 Aug. 21

2023
Elisabetta Gnudi Angelini's parents were from Bologna, but she was born in Rome and grew up there, and does not come from a family of wine producers. She worked in the film industry for many years as a producer and co-partner of Luca Barbareschi, and in the pharmaceutical sector.
Fascinated by the countryside and wine, which she considers a world of strong deep-rooted values, different to those of the film industry, and excited about regaining contact with a genuineness that could not be found elsewhere, she developed such a passion for this work that she became entirely devoted to it.
She became interested, above all, in Tenuta di Caparzo in Montalcino, showing her desire to learn by starting to personally follow all production phases at the winery.
Today, the wineries she owns are the outcome of several purchases that gradually made her dream, of owning a property in Tuscany, come true.
The opportunity came in 1997, when she purchased Borgo Scopeto in the Chianti Classico area, between Siena and Vagliagli. Borgo Scopeto, which is now a luxury hotel, was refurbished – with an investment of about 30 million euros – and carefully restored. Elisabetta took care of this herself, choosing all the details, from materials to furnishings, turning it into a magnificent country relais hotel, chosen by the film director Gary Winick as the setting for scenes in his film "Letters to Juliet", starring Amanda Seyfried, Vanessa Redgrave and Franco Nero.
The film, released in 2010, did surprisingly well at the U.S. box office. The appearance in the film of Brunello Caparzo wine led to a remarkable rise in sales of Elisabetta Gnudi Angelini's Brunello in the United States. Borgo Scopeto is not only a charming relais hotel but also a major winery and farm business that produces Chianti Classico wine and extraordinary extra-virgin olive oil.
In 1998, Elisabetta Gnudi Angelini also purchased Caparzo, her "first love", the historic winery in Montalcino founded in 1970, when there were only a dozen wine producers around the beautiful village to the south of Siena, and nobody could have imagined the success and sensation that Brunello would later create. Moreover, Caparzo can be credited with making one of the first Montalcino crus, a Brunello made from the grapes of a single vineyard, known as La Casa. Its soils are particularly suited to vine growing and it has excellent exposure. Since its first appearance in 1977, Brunello Vigna La Casa has established itself as one of the most prestigious wines of Montalcino, leading the way for many other crus that were created, above all, in the 1990s. Not by chance was Brunello Vigna La Casa chosen as one of the protagonist wines of the Japanese Manga series "The Drops of God", a highly successful comic also exported abroad.
In 2002, Elisabetta purchased Altesino, also situated in Montalcino. It is a small prestigious winery that produces Brunello, with its vineyards partly bordering on those of Caparzo. Altesino is one of the small-medium sized wineries that have made their mark thanks to their excellent quality products. The pride of Altesino products is undoubtedly Montosoli: the first Brunello cru obtained in 1975 from the vineyard of the same name. Observing it from Palazzo Altesi, the 15th-century building that Elisabetta has chosen as her personal residence, the perfectly maintained Montosoli vineyard is an icon in the natural landscape of the area. Wine is made from carefully selected grapes from old vines, and is only sold in the best vintages.
It is such excellent wine that, in 2014, Brunello di Montalcino Montosoli 2008 di Altesino was chosen by Wine Spectator, the "Bible of wine" esteemed by the entire wine-producing sector, as one of the 100 top wines in the world, with a score of 95/100.
Then, 2003 was the first year of production of Morellino di Scansano, made from grapes from the vineyards planted in the Maremma area at the Doga delle Clavule winery (purchased in 2000).
The properties currently cover over 1,100 hectares, including 254 for vine growing, sub-divided as follows:
Caparzo: 83 hectares
Altesino: 44 hectares
Borgo Scopeto: 70 hectares
Doga delle Clavule 57 hectares
Borgo Scopeto also has 7,000 olive trees that cover about 40 hectares of land.
Elisabetta Gnudi Angelini has a son and a daughter, Igino and Alessandra, who both live in Rome but closely follow the family businesses.
Igino Angelini is an environmental engineer and thanks to his efforts Caparzo was the first winery in Montalcino to install solar panels to produce so-called clean energy. All the wineries produce their own energy and are partly autonomous. Caparzo has also implemented a system for the total recovery of water, and along with the other wineries owned by Elisabetta it has chosen the path of eco-sustainability.
In just a few years, Elisabetta's relationship with wine has become successful and passionate while her complete involvement in her work (she is affectionately called the "vignaiola" or winemaker) has made her so enamoured that every harvest and tasting period is an emotional experience. Elisabetta's wines are renowned almost worldwide. The main markets are the U.S., Canada, all of Europe, China, Japan and Russia. Statistics show that exports predominate and are continuously increasing (since 2009 exports have more than doubled). Currently, 75% of the wine produced is sold abroad and 25% in Italy.