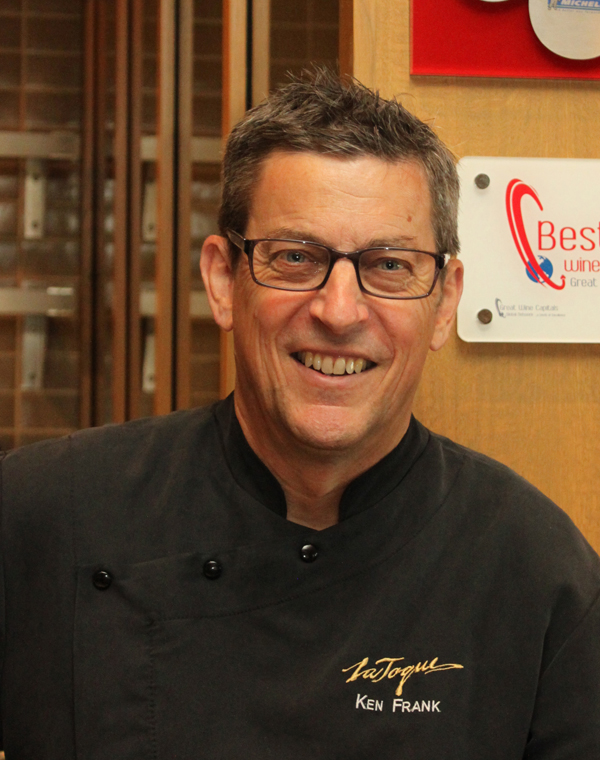 Oct. 14

2015
Please join us in welcoming Ken Frank as a Celebrity Chef at the 2016 Naples Winter Wine Festival!
In the heart of downtown Napa, Ken Frank can be found cooking up outstanding cuisine at his restaurant, La Toque. Ken Frank proudly holds a Michelin Star, as well as a Grand Award from Wine Spectator; two of the highest forms of recognition in both the wine and food industries. Ken Frank opened his first La Toque on Sunset Boulevard when he was only 24 years old. After 14 years, he sold it to Chateau Marmont. Ken's second La Toque has been in its current location for ten years now. It's only fitting that Ken will join the Naples Winter Wine Festival for a second time come January 2016. We're looking forward to having Ken back at the Festival. Read to see what he had to say during our recent chat.
What was your first job in the food industry?
After my father moved us from California to France, I started at the bottom—washing dishes. The experience sparked my interest to one day become a chef.
How many times have you participated in the Naples Winter Wine Festival? Can you recall a favorite moment?
This will be my second time participating in the Naples Winter Wine Festival. I enjoy being able to cook for people who appreciate good wine and good food.
If you could make a meal for one person, dead or alive, who would it be and why?
It's really hard to cook a great meal for just one person.
What's your worst kitchen mishap?
Like most chefs, we all injure ourselves here and there. In my case—I suffered a really bad burn.
What's your favorite place to eat in the world and why?
That's easy, it's definitely Tokyo. Obviously it's home to the world's finest sushi, but the entire Tokyo dining scene—from street food to three Michelin Star restaurants—is amazing.
What's your favorite restaurant in Naples, Florida?
I have yet to discover my favorite restaurant in Naples, but I'm open to suggestions.
What's your favorite dish to prepare for yourself, and what wine do you pair with it?
On the fancy side—I love pasta with great butter and fresh truffle, washed down with a great Barolo. On the casual side—I love to make pizza in the backyard and I'll drink whatever fits the moment.