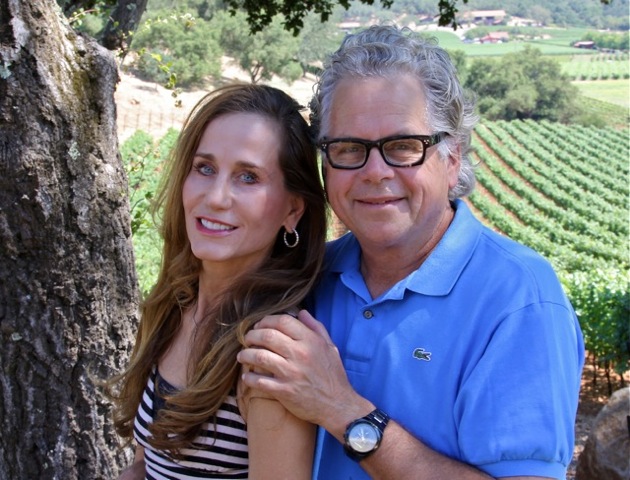 Sep. 02

2015
Please join us in welcoming Valerie Boyd and Jeff Gargiulo as Featured Dinner Vintners at the 2016 Naples Winter Wine Festival!
Jeff Gargiulo and his wife, Valerie Boyd, are the founders of Gargiulo Vineyards, an immense wine estate located in Oakville, Napa Valley that is known for its world-class Cabernet Sauvignons. A native of Naples, Florida, Jeff was instrumental in the establishment of the Naples Winter Wine Festival (NWWF), becoming its very first Chairman. Valerie and Jeff are excited to return to the 2016 Naples Winter Wine Festival as Featured Dinner Vintners. We recently chatted with Jeff, who gave us the inside scoop on how he came to own his vineyard, his role in the first NWWF, and much more.
What inspired you to enter the wine industry?
Originally from Naples, Florida, our family grew tomatoes and strawberries locally. Traveling for work, we went to California. Because of my passion for wine, we went to Napa and fell in love. Val and I bought our first vineyard in 1994 and began making wine in 2000.
How long have you participated in the Naples Winter Wine Festival? Do you have a favorite moment from these past years?
I was the first Chairman of the Naples Winter Wine Festival. My favorite memory is of the first year because we had no expectations. When the two organizations, Boys & Girls Club of Collier County and Youth Haven, had their representatives get on stage to tell their stories—you could feel the electricity in the room. People were receiving the information and the event was transformed from a typical auction to people wanting to make a difference.
How did you become the first chairman?
We were all in a backyard one Sunday—drinking wine, talking about putting money in and combining our passion for wine to help the kids of Collier County. The NWWF has done an amazing job for these kids. Combining the chef and vintner communities from Naples, Napa, and around the world to support this cause for the kids—we can all be very proud.
If you could share a bottle of wine with one person, dead or alive, who would it be and why?
Our founding fathers—modern politics have gotten so off base. It would be great to hear their experiences in starting companies. They were a smart, interesting group of guys. We have all benefited from their expertise. I would share a 1971 Giacomo Conterno Montfortino, Barolo Riserva with them.
What are your two biggest accomplishments; one personal and one professional?
Personally, it was being the first Chairman of the NWWF. Looking at it 15 years later, at how successful it has become and what it's done for the kids—it's wonderful to know I was a part of it.
Professionally, I'm proud to produce high-quality wine and to create a successful brand. We have achieved world-class wine and we started it from scratch. Being from agriculture, I knew it would take time to grow grapes. The biggest challenge was once I had the wine—I had to figure out who were my customers? Now we get emails every day from people all over the world who are drinking our wine. My favorite moments are when people choose our winery to spend their special moments, such as their anniversary. What an honor it is that people choose to propose to someone while drinking our wine, or during an event at our winery.
What is your preference, wine with food or wine on its own?
Wine with food is the best marriage. Wine tastes better given the right food, and vice versa. It doesn't have to be perfect—drink what you like when you want, and complement it with food you enjoy.
What's your favorite thing to do in Naples, Florida and why?
Val and I love to sit on the porch and watch a really great thunderstorm with a glass of wine. It's what we miss most when we're in California. Gargiulo Pinot Grigio is a crisp white wine that is perfect during the heat of the day. Then when it cools down after the storm, we end it with one of our great Cabs.
What's your go-to wine, and what dish do you pair with it?
My go-to wine is our G Major 7 Cabernet Sauvignon, which is named after a classic jazz guitar chord because it's composed of four of the five classic Bordeaux varietals; Cabernet Sauvignon, Cabernet Franc, Petit Verdot and Merlot. I pair it with eco-friendly lamb chops with a little salt and lemon. I cook it on my special grill with a flat top so I can sear it on both sides to the perfect temperature.
When I was in college I would cook a Bolognese dish on a one-burner hot plate and sell it. It was a tradition on my dorm floor, so I had a love for cooking early on as well.