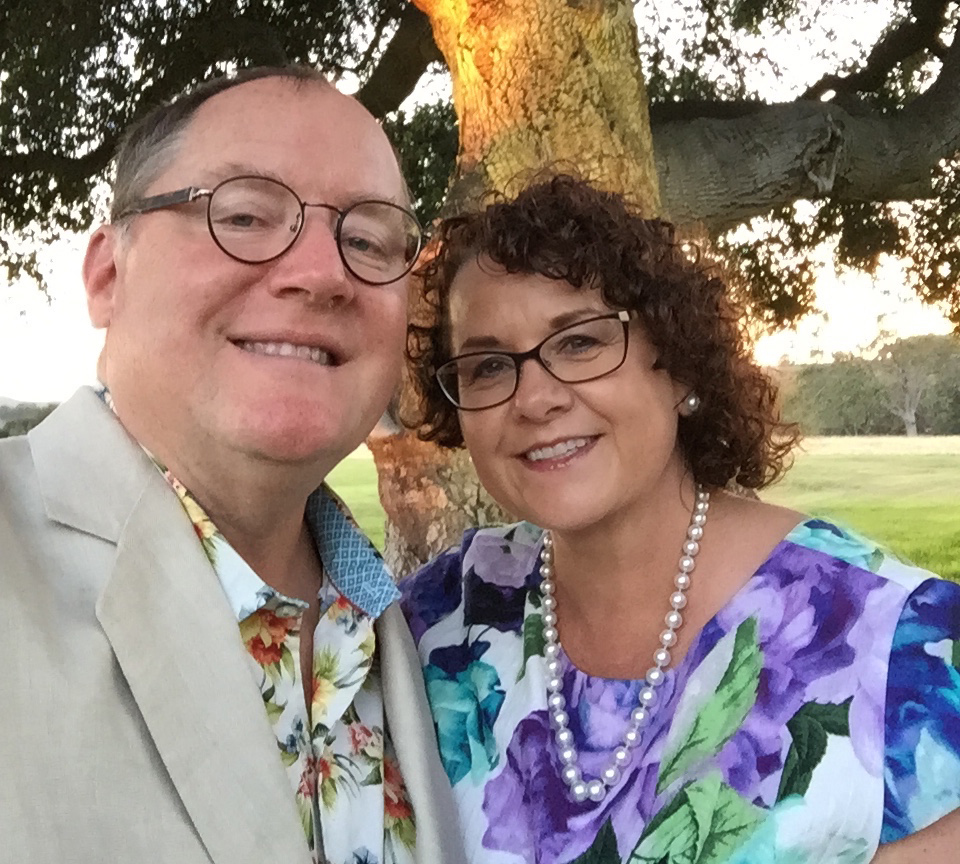 Aug. 19

2015
Please join us in welcoming Nancy and John Lasseter as Featured Dinner Vintners at the 2016 Naples Winter Wine Festival!
The Naples Winter Wine Festival is excited to welcome the Lasseter Family Winery. Established in the heart of Sonoma County in 2002, the Lasseter Family Winery has three family generations working on and tending to the business. Nancy and John Lasseter have been wine connoisseurs for much of their relationship, bottling their first wine as Christmas gifts in 1997. Originally belonging to a French winemaker in 1894, the winery has since been restored and primed for organic, ecofriendly winemaking. The couple enjoys the opportunity winemaking has given their family, the people they've met, and their community of wineries that support one another. Nancy recently gave us an inside look at the Lasseter family business, as well as an idea of what she and her husband are expecting from their Naples Winter Wine Festival experience in January 2016.
What inspired you to enter the wine industry?
In 1993, just after John and I settled our family in Sonoma, I asked the woman who cleaned our house what she was doing for the weekend. She said she would be picking and crushing grapes. I excitedly asked if I could go with her! From that moment on, we had the winemaking bug.
What was your first job in the wine industry?
I began by taking classes in vineyard management at the local junior college and John and I continued to learn from our colleagues. But our passion that started way back in the early 90s is what grew into the Lasseter Family Winery. We released our first vintage to the market in 2000. By the time Julia Iantosca, our winemaker, joined us in 2007 we were all in—in every way.
If you could share a bottle of wine with one person, dead or alive, who would it be and why?
John and I would share a bottle of Reminiscence with Anton Ego from Ratatouille because, in the movie, he was a really tough critic yet he appreciated his mother's cooking and traditional cuisine that was done perfectly. If a Lasseter Family Wine were to win the heart of someone like him, nothing would be more gratifying.
What is your proudest accomplishment?
Besides our five sons, I am so proud of showing Lasseter Family Wines to acquaintances and simply watching their reaction.
What is your preference, wine with food or wine on its own? Why?
The most fun way to experience wine is paired with food. Our wines are designed to be food wines with balance, depth and complexity—just the way chefs create dishes. When a food-wine pairing is just right, you never forget it.
What's your favorite thing to do in Naples, Florida and why?
I love to explore the restaurant scene in Naples with my mother, Shirley, who lives in Fort Myers.
What's your go-to wine, and what dish do you pair with it?
Picking a favorite out of all of the Lasseter Family Wines is like choosing a favorite child, but for the sake of interest I can say I have a favorite pairing. I like to pair Lasseter Family Chemin de Fer (Grenache, Syrah and Mourvèdre red blend) with duck confit.