Oct. 25

2017
Every year, NWWF teams up with some of the most luxurious names in the industry to raise money for Festival's founding organization, the Naples Children & Education Foundation, whose annual grants have impacted over 40 of the most effective nonprofits in the community, providing more than 200,000 children with the services and resources they need to excel.
This year, wine-enthusiasts and globetrotters will rejoice to hear that they have a chance to win custom-curated packages exclusively available to this year's live auction bidders. These experiences will take them and their taste buds to highly sought-after destinations and will provide guests with never-before-seen adventures around the world. Some of these items include:
Silver Oak Cellars – a private dinner at either Silver Oak Winery in Napa or at the winning bidder's home, with a live piano performance by Chuck Leavell of The Allman Brothers and The Rolling Stones. The winner will also receive a signed Martin OMCXAE Black Guitar along with a 3, 6, and 12-Liter bottle of the 2013 Silver Oak Cellars Napa Valley Cabernet Sauvignon.

Chickamauga Battlefield Experience – a four-night adventure including three nights at The Dwell Hotel in Chattanooga and one night on 2018 Co-Chairs, Becky & Lewie Card's houseboat for a cruise along the Tennessee River. The two couples will enjoy a cocktail party at Jack Hatcher's plantation, pairings at Fairyland Club, Civil War historical tours, dinner at Alleia Restaurant, and golf at Chattanooga Golf & Country Club.

Lakani World Tours – an 18-night all-inclusive VIP private jet trip around the world starting in Hong Kong, then going to Malaysia, Reunion Island, South Africa, Cyprus, and then Spain. One lucky couple will travel First Class to Hong Kong and from Costa del Sol, Spain with luxury suite accommodations in all six destinations.

Musique et Vin – four VIP tickets to the sold out 2018 Musique et Vin in Beaune in stunning Burgundy, France with access to the private Club 1243 (founded by Bernard Hervet and Aubert de Villaine), among additional unique dinners, tastings, and more.

Benovia & Katherine Jetter – travel from Newport, RI to Nantucket, to Martha's Vineyard on Bella Una, a 127-foot, tri-deck superyacht complete with a private chef. While in Nantucket, 3 couples will enjoy a private luncheon at the exclusive Westmoor Club and a private session at The Vault for custom-designed pieces of jewelry by Katherine Jetter.
The remaining 2018 auction lot items will be released at a later date and will be available at http://www.napleswinefestival. com/auction-lots/
California Wine Strong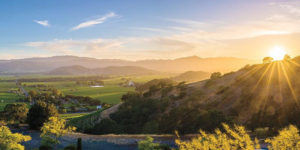 Our hearts and prayers are with the Napa Valley and Sonoma Vintners their families and staff. Despite the terrible losses in Napa and Sonoma as a result of the still burning fires, 100% of our Napa and Sonoma Vintners have assured us that they will be here in January to once again help our community as they always have. The Naples, Napa and Sonoma communities share a special bond in how we care for our neighborhoods, families and the children. Purchasing wines from our Napa and Sonoma Vintners and donating to their grassroots fundraisers are two direct ways to aide them in rebuilding what has been lost. We have always been supportive of each other. We stand Collier strong to help our Napa and Sonoma friends.
 NCEF Teams Up with Guadalupe Center to Provide Health and Educational Aid
While registering students for Guadalupe Center's After-school Program at Pinecrest Elementary School, a mother inquired about enrolling her six-year-old son, Rubelio, into the program as he had never received education in their native home of Guatemala. Rubelio had lost his eyesight due to severe cataracts, which could be removed with a surgery his mother couldn't afford at the time. After hearing this story, the Guadalupe Center team sprang into action and reached out to the community to raise awareness and gain support to get Rubelio the medical attention he needed.
Rubelio with Jennifer Bessner, Guadalupe Volunteer
Due in part to NCEF's continued support of Guadalupe Center's After-school Program and through the NCEF Children's Vision Initiative, Rubelio has undergone a series of successful eye surgeries at Bascom Palmer Eye Institute in Miami, and has received after-school tutoring to address academic, social and emotional needs. Today, Rubelio is beginning to speak and understand English while slowly recovering his eyesight, and is starting to see shadows and recognize colors. Teachers also report that his sense of humor and personality are beginning to emerge for the first time and that he can move around the playground unassisted, interacting with his fellow classmates. Due to your continued generosity, this little boy has been brought out of the darkness.
NCEF'S SHINING STARS
Education is the most powerful weapon which you can use to change the world. – Nelson Mandela
Every month, the "NCEF SHINING STARS" column features an inspirational boy or girl in our community. This month we spotlight Perla, a student of Redlands Christian Migrant Association's (RCMA) Child Development Center at Timber Ridge in Immokalee.
Perla joined RCMA as a shy three-year-old who did not speak any English and had never been introduced to a classroom environment. While enrolled, she participated in school readiness activities and the Early Literacy & Learning Model (ELLM), which taught her letter and sound recognition and how to speak both Spanish and English fluently. Throughout the program, she grew to become more independent and confident, learned the importance of personal hygiene, and improved her social emotional development as she built relationships with other children and her teachers. Having graduated RCMA's Voluntary Pre-Kindergarten (VPK) at age four, Perla has grown tremendously as she's overcome her fears and has made many new friends. Ready and eager to learn, Perla started Kindergarten in August as an NCEF Shining Star!
Get Involved
If you wish to make a special donation to NCEF, which will ensure that much-needed services reach the most vulnerable children in our community, please visit our donation page.
To learn more about the Festival, and to see more exciting updates, please visit us on Facebook, Instagram and Twitter.
#NWWF2018