The Naples Winter Wine Festival has topped the Wine Spectator Magazine's list of the highest-earning charity wine auctions in the country, marking the 12th time the Festival has earned this illustrious title since its inception in 2001. This honor goes to the 2017 Festival, which raised nearly $13.5 million under the live auction tent. This excludes the Fund a Need, which garnered $1.6 million in live donations for Children's Healthcare, "A Bright, Sunshiny Future," which focused on children's oral health, mental health, primary and vision care.
To view the Wine Spectator ranking list, click below:
Wine Spectator Magazine – Local Charities Get A Boost In 2017
Lending a Helping Hand 
On April 18th, volunteers from Goldman Sachs, Quarles & Brady LLP, the Wounded Warriors Project and Naples Children & Education Foundation gathered together for the ninth consecutive year to "lend a helping hand" for the Goldman Sachs Community TeamWorks Day. Volunteers worked to help paint the St. Matthew's House shelter's main building and surrounding areas, organize the donation storage facilities and replant the flower gardens. St. Matthew's House serves over 600 individuals in Southwest Florida that depend on the facility for shelter, meals and recovery service offerings. The programs provided at St. Matthew's House offer counseling and individual guidance for challenges faced physically and emotionally. The hard work executed by these volunteers give families that depend on St. Matthew's House hope and guidance towards a life free of addiction and homelessness. We are forever grateful for the donors and sponsors who go the extra mile to help support and serve the Southwest Florida community.
NCEF'S Shining Star
"Leadership and learning are indispensable to each other." – John F. Kennedy 
Jonas Astriede is a 10th grade student from Immokalee High School and a valued member of the Miracle University (MU) Internship program. The MU Internship program is offered through NCEF's Out-of-School Time Initiative and helps provide students with career and resume building experience, while working with the youth in the Immokalee after-school programs. Jonas has demonstrated strong leadership skills, commitment, an uplifting personality and has even become a mentor for the younger middle school students in the program. He is insightful, charismatic and admired by everyone who works with him. Despite the multiple responsibilities as a current high school student, Jonas has proven that he is able to be on time, stay on task and successfully complete any assignment. His MU experience thus far has allowed him to give back to the Immokalee community and help with the younger generation. For Jonas, this is just the beginning, he aspires to be a police officer where he can further continue his passion to give back to the community.
School Is Out – Hungry Children Need Your Support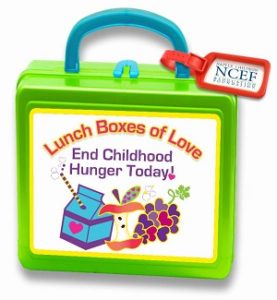 The end of each school year brings excitement and joy for many children who look forward to family vacations, summer camps and outdoor fun with family and friends. However, in Collier County, many children are worried about when and where their next meal will come from.  According to Collier County Public Schools, 64.7% of school children receive free or reduced-price meals, which for many kids represents their entire diet for each day.
At NCEF, the Children's Hunger Initiative focuses on addressing childhood hunger and nutrition. With the help of our partner agencies, we are able to provide resources for underprivileged children and their families who are struggling to obtain the means for healthy, nutritious meals during the summer months. When children are properly fed, they are able to have the energy to focus, engage, learn and grow. With your support, we can continue to provide a wholesome and proper foundation of nutrition to allow these children to have a hot meal, access to fresh produce and the proper dietary components needed to excel. Please consider an online donation to NCEF to support these essential needs in our community.
In Case You Missed It
Here is a list of additional recent features of the NWWF and NCEF in the news, please click on any of the below links to view the articles:
Naples Daily News – NWWF Ranks Top Festival & Announces Co-Chairs for 2019
Florida Weekly Online – Naples Winter Wine Festival poised to break records again
NPR Grape Minds – Wine Fest Episode 3
News-Press – NWWF Ranks Top Festival & Announces Co-Chairs for 2019
Life In Naples – NCEF Community TeamWorks Day with Volunteer Goldman Sachs
For a full listing please visit: https://www.napleswinefestival.com/news_ press_categories/published- articles/ 
Get Involved
If you wish to make a special donation to NCEF, which will ensure that much-needed services reach the most vulnerable children in our community, please visit our donation page.
To learn more about the Festival, and to see more exciting updates, please visit us on
Facebook, Instagram and Twitter. #NWWF2019