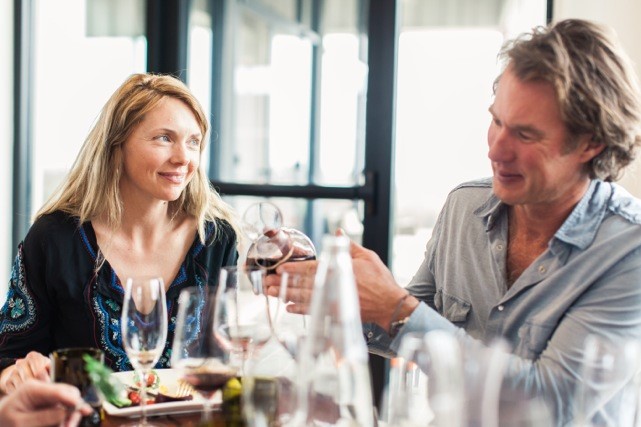 Jul. 29

2015
Please join us in welcoming this wine couple back as Featured Luncheon Vintners at the 2016 Naples Winter Wine Festival!
Rutger de Vink and his wife Jenny Marie are the proprietors of upscale RdV Vineyards in Delaplane, Virginia. The couple complement one another quite well; Rutger enjoys being outside, tending to the vineyard and overseeing daily operations, and Jenny Marie handles the hospitality aspects. Recently referred to as the next generation of Virginia wine, Rutger's wine journey was somewhat unconventional, beginning as an apprentice for three years under Jim Law, a pioneer in the Virginia wine industry, followed by time working harvests in Bordeaux and Napa. By 2004 Rutger found the ideal location for RdV Vineyards. Two years later, in 2006, Rutger planted the vines that would become RdV Vineyards. Two Bordeaux-style wines are produced from their 16 acre granite hillside: Lost Mountain, a Cabernet Sauvignon dominant Bordeaux blend, and Rendezvous, a blend that is more of an expression of each vintage. We're pleased to welcome Jenny Marie and Rutger back for their second year at the 2016 Naples Winter Wine Festival! We recently checked in on this husband and wife wine duo to see what how they got started, what they'd love to have said to Thomas Jefferson and the name of their favorite restaurant, here in Naples.
What was your first job in your industry?
RdV: From 2000-2003 I was mentored by Jim Law of Linden Vineyards. This gave me a tremendous amount of hands-on experience where I spent six days a week, learning from the ground up. I worked in all capacities, learning everything I could about the wine business. I also spent valuable time in Bordeaux and California. After I felt confident enough, I purchased land in 2004. Waking up every day and being able to say I love my work has been the backbone of this new life venture.
JMdV: I'm so grateful to be on this journey with Rutger. He has so much passion for this business, it's inspiring to see and be a part of.
How often have you participated in the Naples Winter Wine Festival? Do you have a favorite moment from last year?
RdV & JMdV: Last year was our first time taking part in the Naples Winter Wine Festival and
Meet the Kids Day was definitely our favorite moment. That experience completely blew our minds and that's when it all came together for us. We realized that this is the most amazing wine event because you can see first hand all of the good that is being done.
We're constantly writing down the different ways we can and want to give back, a way that RdV can make a difference. Right now, with establishing the winery and raising children we haven't found the time we would like to dedicate to more philanthropic endeavors. We've compiled a list of goals to achieve and right now we give back in small ways. Working with the Naples Winter Wine Festival is a great place to begin.
If you could share a bottle of wine with one person, dead or alive, who would it be and why?
RdV: That's easy, Thomas Jefferson, he was a true wine lover and Virginian. From his travels through Europe, where he would drink the finest wines, he returned to Virginia with grapevines to try his hand at viticulture. He wanted to prove that one could produce fine wine in Virginia, but unfortunately phylloxera, wiped out the entire vineyard before he could attain his goal. I'd want to show him that his dream of being able to produce great wine in Virginia was realized.
What are your proudest accomplishments?
RdV: I'm proud that I followed my passion and achieved something special. I'm proud to be able to produce world-class Bordeaux-style wine in Virginia, to be able to bridge the gap between old world and new world, winemaking. I feel very fortunate to live and work where we are and create way.
How is it working side by side with your spouse?
JMdV: We are the Yin and Yang, so it's a wonderful experience to work together. He gets to do what he loves, which is working in the vines, while my focus is more on hospitality and building relationships with our customers.
What's your favorite restaurant in Naples, Florida?
JMdV: We really enjoyed our dinner at Bleu Provence. It was three hours of wonderful food, great wine and perfect ambiance. We look forward to seeing more of Naples in 2016.
What's your go-to wine, and what dish do you pair with it?
RdV & JMdV: Pol Roger Champagne, because it is always time for bubbles! Really great sushi would the meal we'd pair with it.